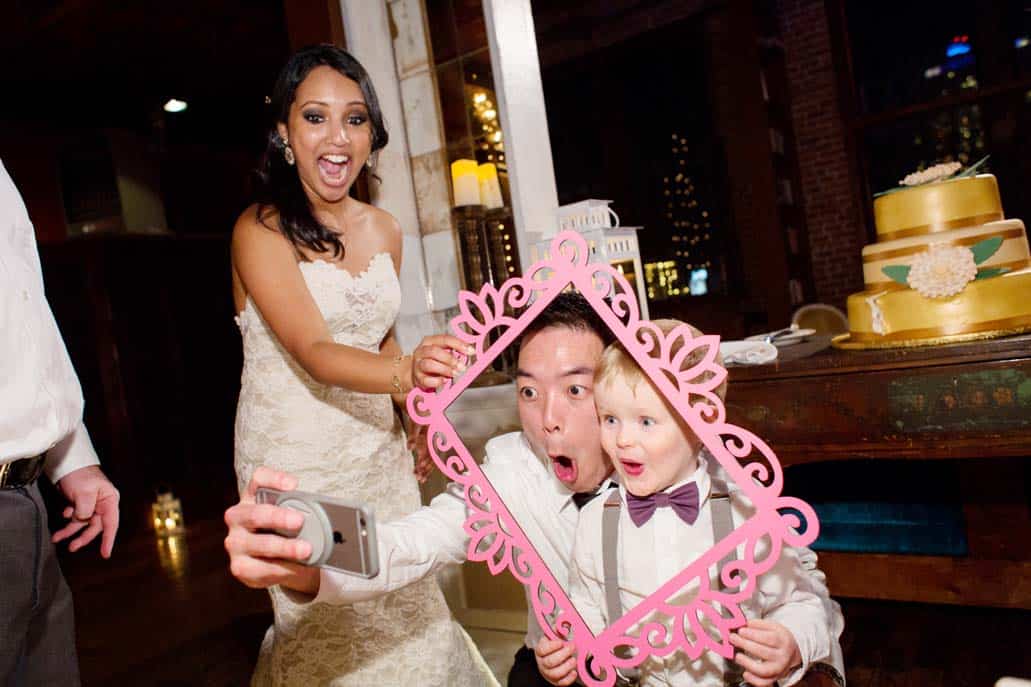 Metropolitan Building Wedding Reception: Picture Time with Groom and Ring Bearer
This scene was just one of many ebullient moments at this Metropolitan Building wedding. The bride grabbed an empty pink picture frame and thrust it in front of the groom and ring bearer's face as they snapped a selfie. I love the groom and ring bearer's identical expressions.
The bride, Michelle, has a wonderfully effervescent personality and had a blast at her wedding from start to finish. Her husband, Rex, has a more dry sense of humor, so this very goofy picture was a special one.
The Metropolitan Building is one of the top wedding venues in NYC, and for good reason. It's a fascinating place, with a different feel on each floor and tons of flexibility. Located in Long Island City just across from Manhattan, it was originally built in 1909 as an electrical parts factory. In 1980 an eccentric antiques dealer named Eleanor Ambros bought the building. She transformed it into an "urban château."
The Metropolitan Building has three floors available for events. The second floor is decorated in a French regency style with hand-painted wood floors. The third floor has 12-foot ceilings and is basically a raw space packed with antiques in various stages of repair. Brides often use the third floor's "Red Room" as a bridal suite for hair & makeup. The fourth floor is an industrial loft with skylights, a stage, dance floor, and 8 foot tall windows on all four sides.
This photograph was taken on the fourth floor. In the background you can see their gold matte wedding cake from Gourmet Bake Shop in New Hyde Park, NY. Michelle is wearing a lace wedding gown from The Wedding Atelier.
If would like to see more pictures from this wedding, click and here
The Metropolitan Building. Phone:+1 718 784 3716 Website: http://www.metropolitanbuilding.com/