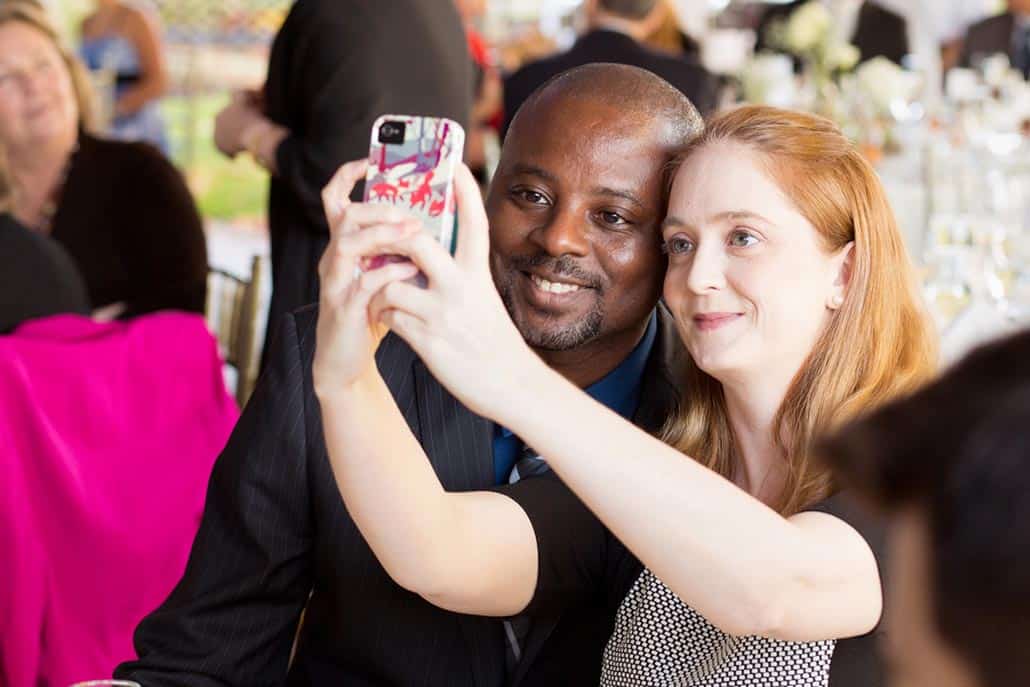 Chauncey Conference Center Wedding Reception
In this photo, a pair of guests at a Chauncey Conference Center wedding reception grab a selfie of themselves as the dinner is being served. Capturing candid moments like this is something we love delivering to our clients. Obviously the bride and groom are very busy at their weddings, and in the midst of the whirlwind they don't get much chance to see their friends and family enjoying themselves. This is what the photographer is for!
Some wedding photographers ask their clients to discourage guests from taking photos at their weddings. That's definitely not something we would do! In fact, one of Kyo's favorite things to do is taking photos of other people taking photos. He loves their expressions of concentration or pure enjoyment.
The Chauncey Hotel & Conference Center is a less well-known wedding venue in the Princeton area. It is located on the grounds of the Educational Testing Service (yes, the ones who developed the SAT, GRE, TOEFL tests and many others). Believe it or not, they also operate this gracious conference center in a wooded area west of Princeton.
The Chauncey Center includes 370 acres, a lake, a historic hunting lodge dating from the mid-1700s, and a 3-season outdoor tented event space. The executive chef uses produce from the garden on the grounds and incorporates many local artisan food into event menus. There is even an on-site art gallery for more contemporary-style receptions.
The Chauncey Hotel and Conference Center, Princeton. Phone: (609) 921-3600. Website: http://www.acc-chaunceyconferencecenter.com/