Whenever we get a chance to mingle with other wedding professionals, we're always curious to find out what they're doing and get ideas from them. So we had a great time discovering the following unique and simple wedding ideas from the Princeton Wedding Show this past Sunday at the Nassau Inn.
Flower Arrangements with Proteas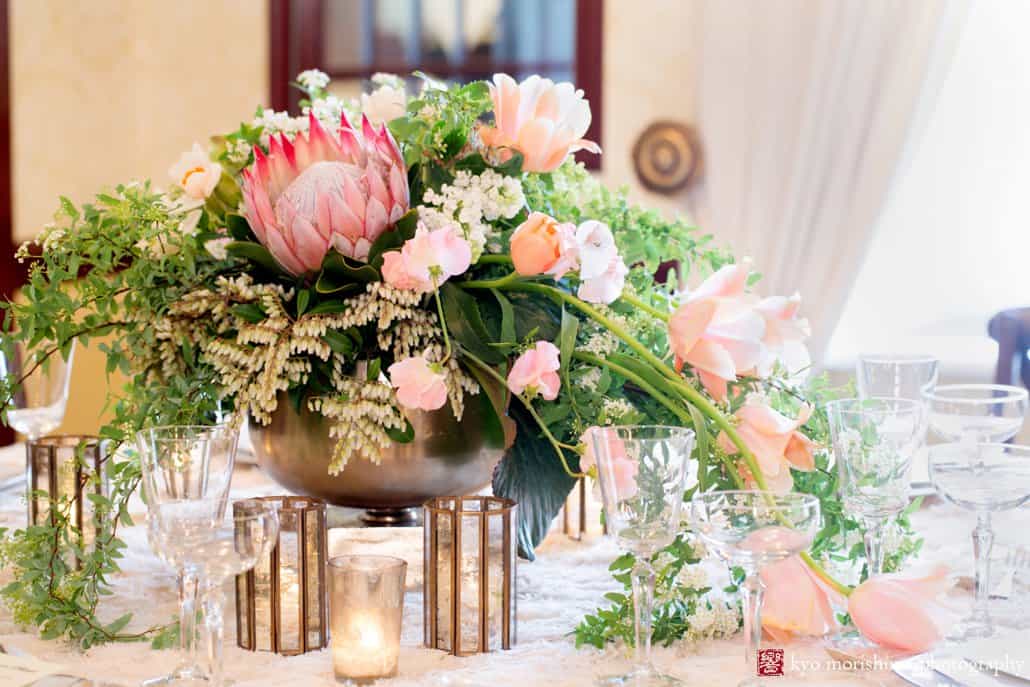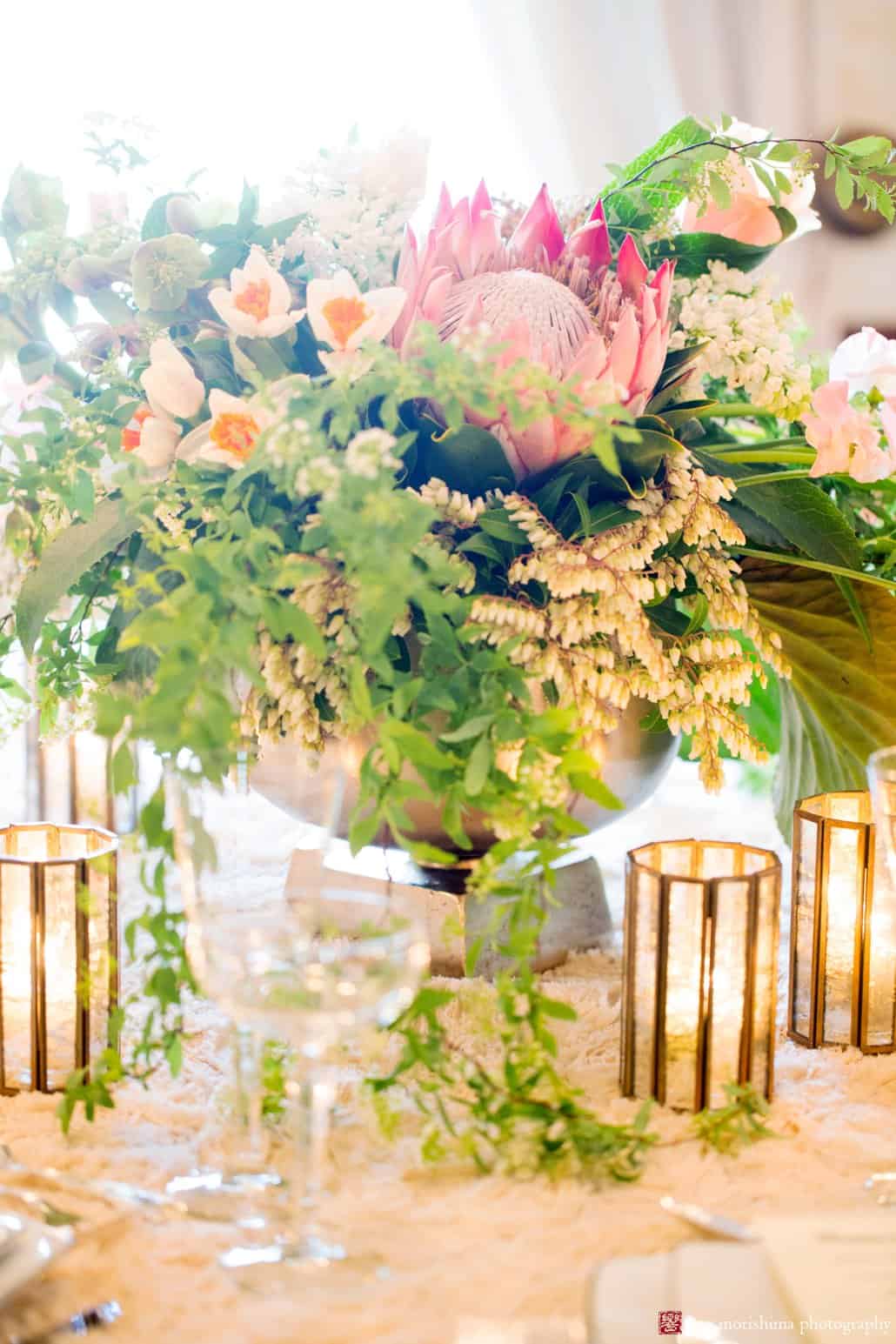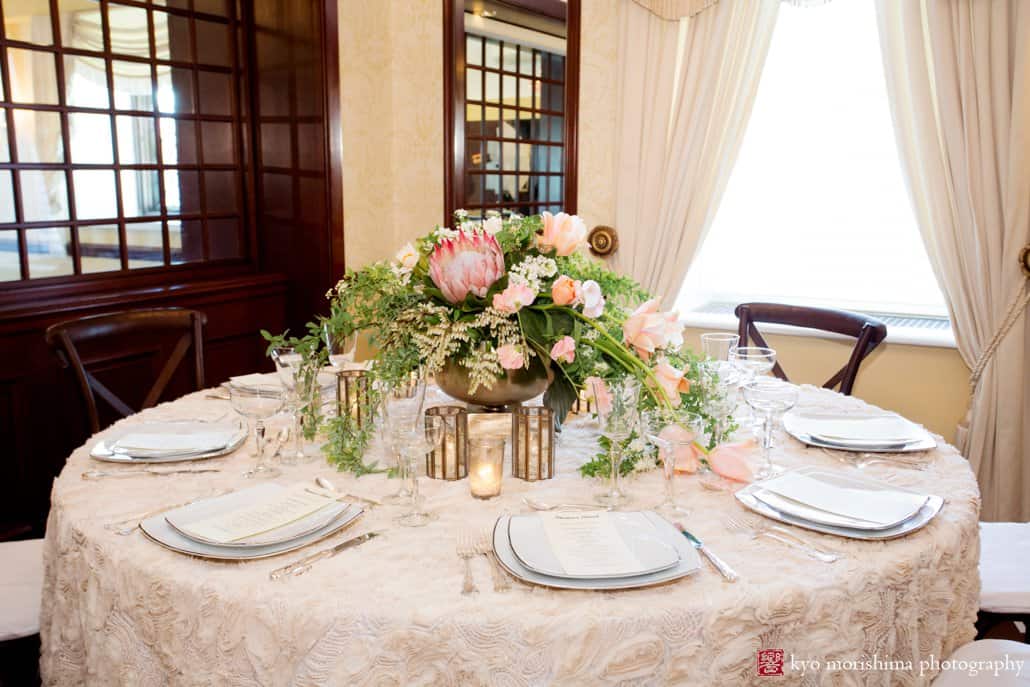 As usual, Viburnum Designs' centerpieces were elegant, dramatic and different. The showpiece element in this gorgeous, Dutch-inspired cascading design is the single rose-colored protea flower.
Protea flowers are native to South Africa. Whether you use a collection of them or even a single specimen, they will add drama. They are huge, spiky, and utterly unforgettable.
(I actually remember the first time I saw protea flowers, at the home of one of my professors when I was in college. I already thought she was a sophisticated, unusual person — and after I saw the bouquet in her house, I was even more convinced!)
There aren't many flower types that can pack such a punch with just a single stem. That's why proteas are a great idea when you're looking for something simple but utterly different for your flower decor.
This feature on The Knot has a lot more protea wedding arrangement ideas: Protea Flower Wedding Centerpieces.
Greenery Wedding Decor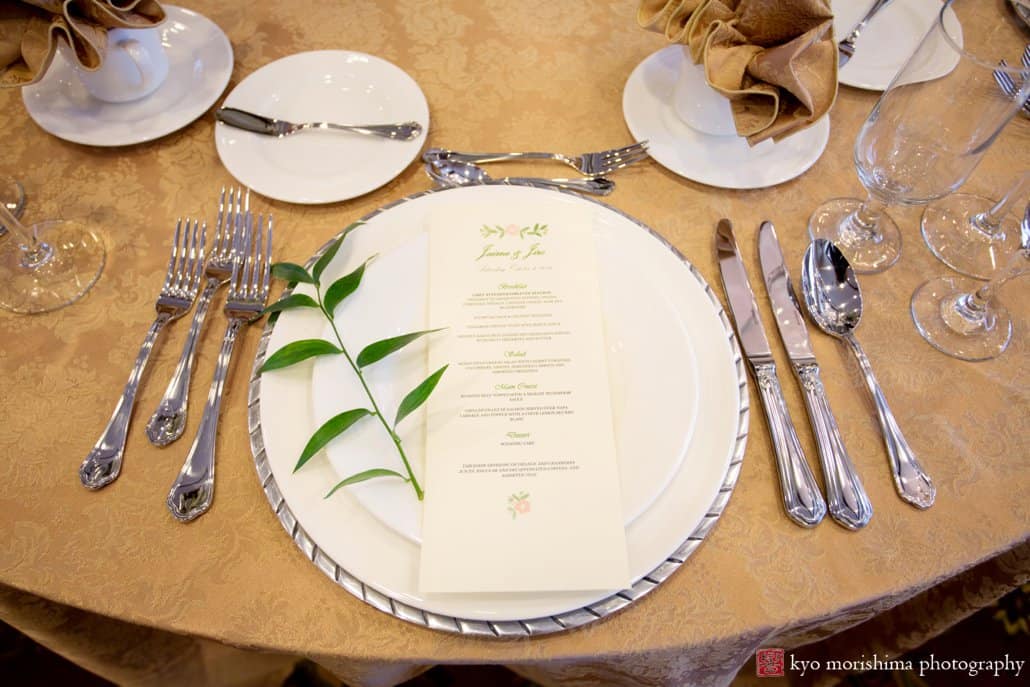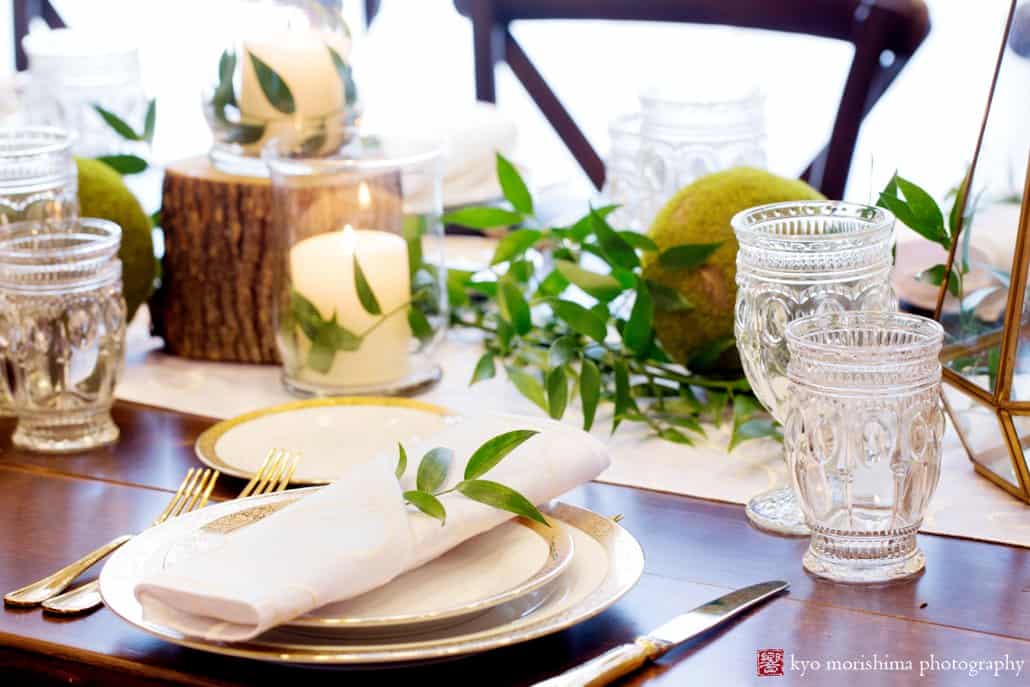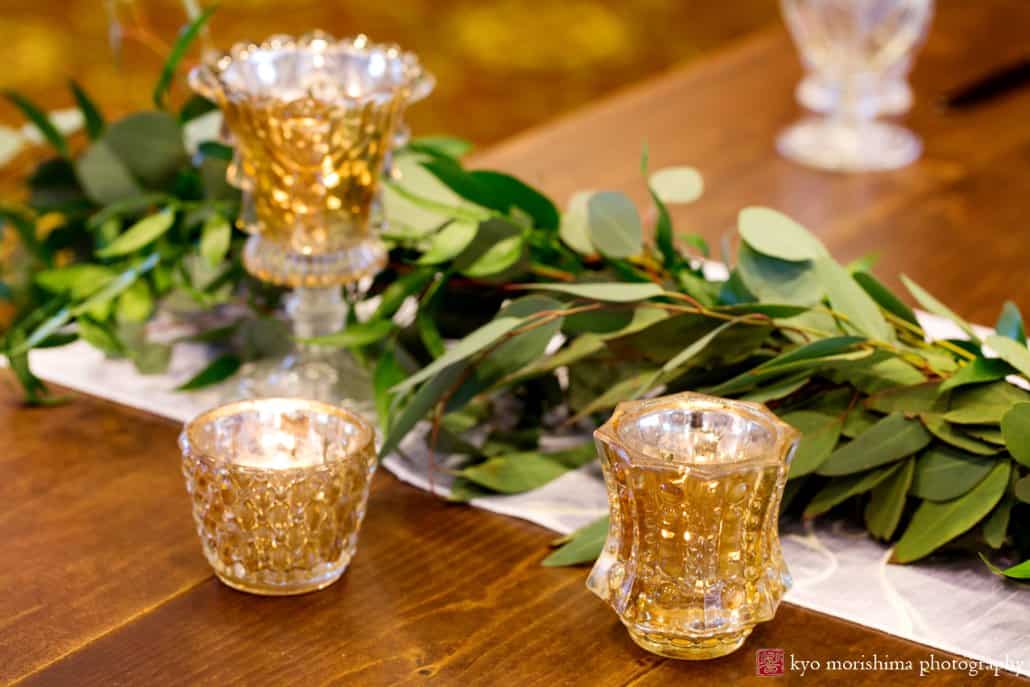 I loved the green-and-gold tabletop designs by Petal Pushers, a florist based in Hamilton, NJ. They combined gold tea candle holders with wood, moss, and glass elements, and tied everything together with a type of greenery called Italian ruscus. At first I thought they were olive branches, but Petal Pushers set me straight.
What's so nice about their design is that it is simple and affordable — but still very stylish. In fact, when I googled "wedding greenery," I discovered that "greenery" is one of 2017's "top wedding trends"! Hm!
There are so many ways you can incorporate sprigs of fresh greenery to add a natural element to your decor. I found a couple of great sources of inspiration on these blogs:
Cupcakes Instead of Wedding Cake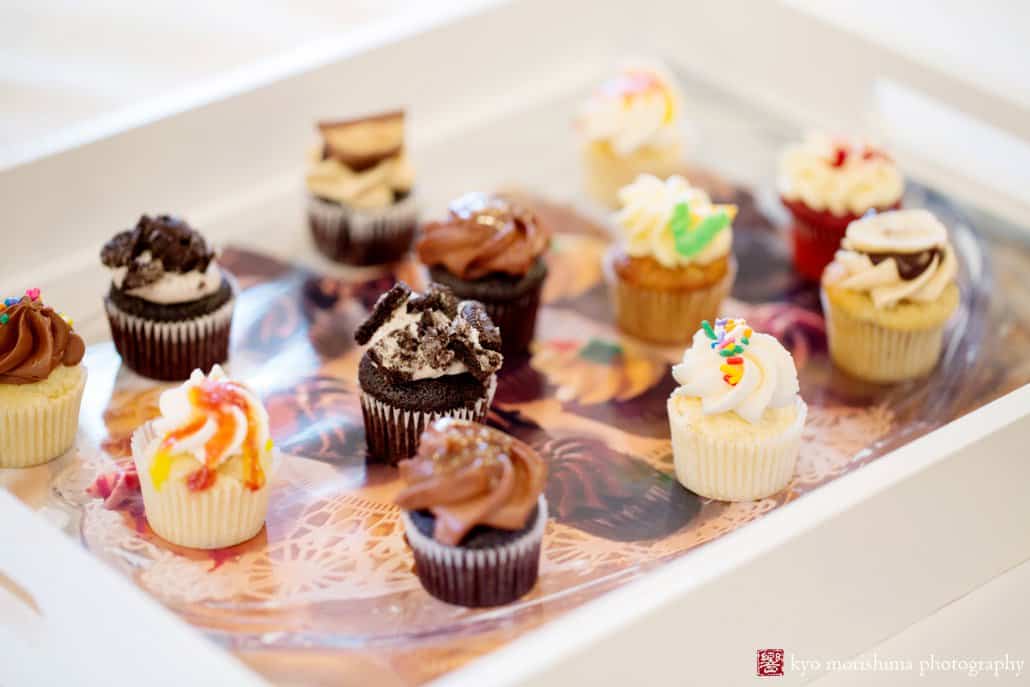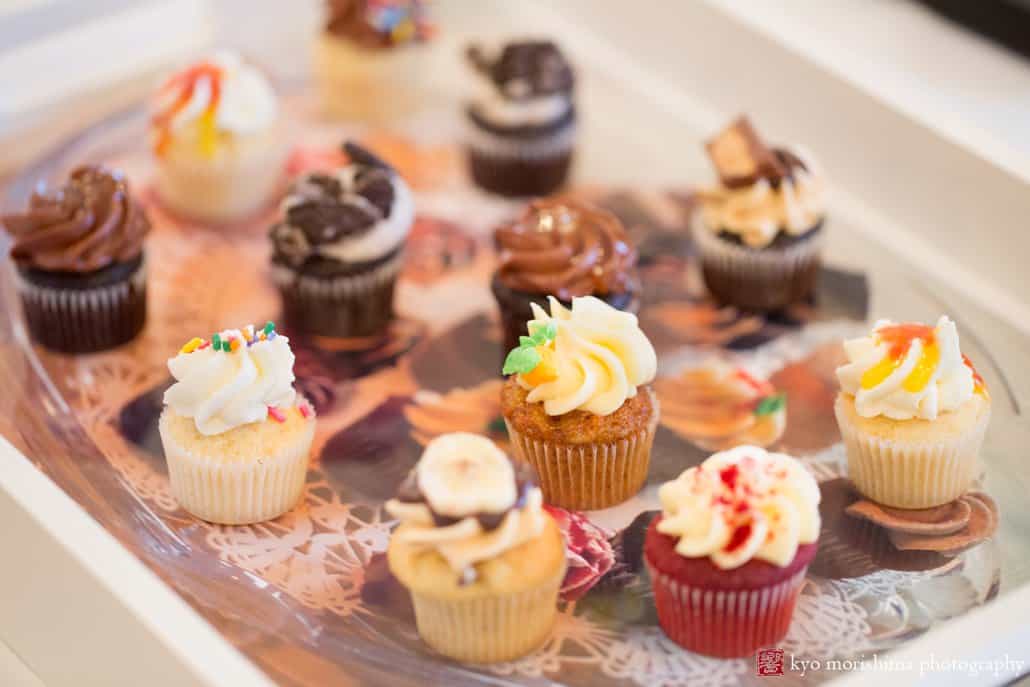 OK, at this point cupcakes at weddings have become popular enough that I probably can't call the idea "unique" — but it's still out-of-the-ordinary and a huge hit with guests. The picture above shows adorable mini cupcakes from Caketeria, including everything from Devil's Food Cake with Cream Cheese Frosting to Vanilla with Mango Gelee to Carrot Cake to Dark Chocolate with Crushed Oreos.
If you can't decide what flavor wedding cake you want — or if you love them all! — this is a great way to treat your guests to a delicious variety.
And there are so many creative ways to stack and display cupcakes…. A blog post on Mon Cheri Bridals offers a bunch of lovely examples of "cupcake wedding cakes."
Chocolate Wedding Decorations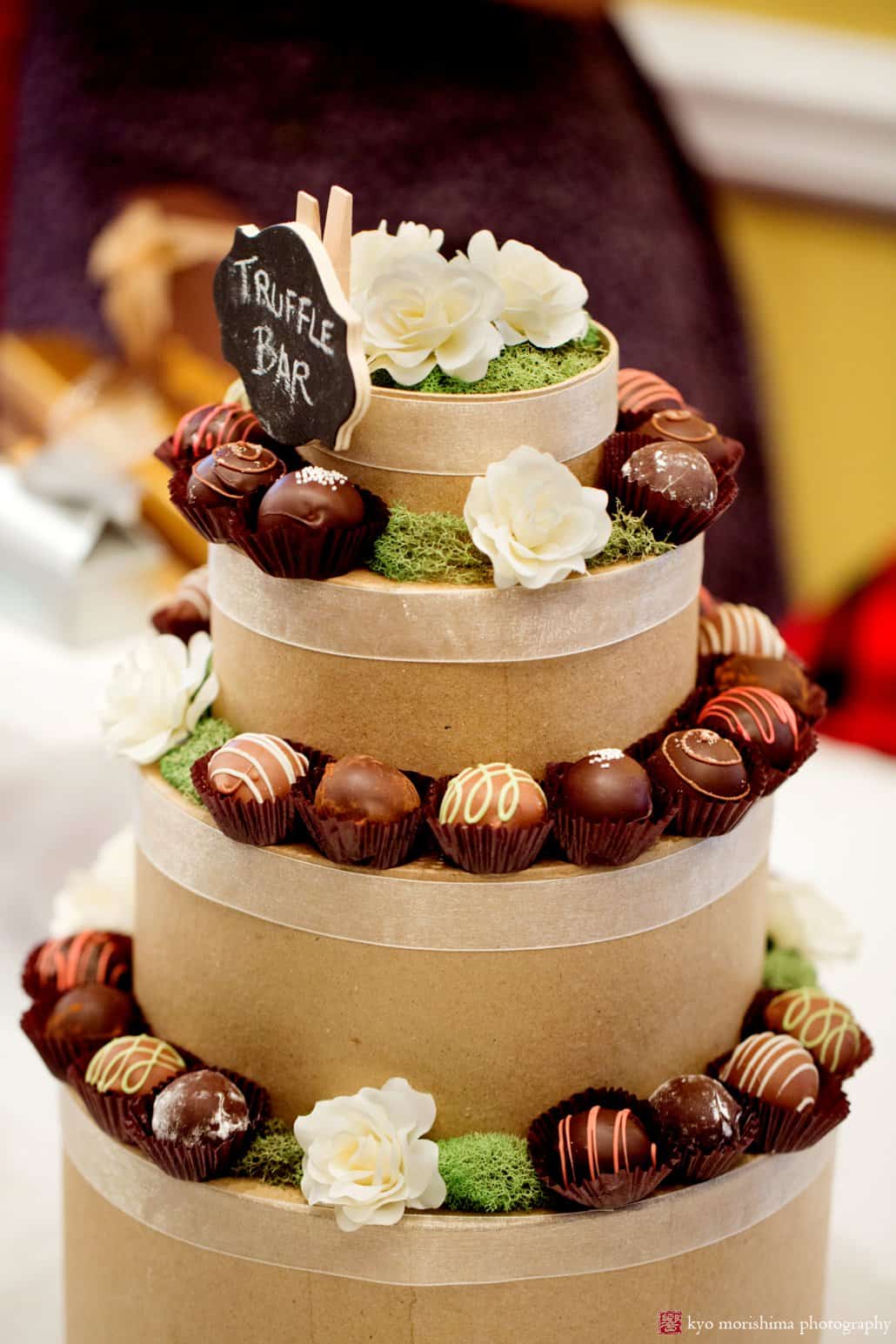 What if you don't even want to decorate your wedding with flowers at all? Or what if you're a serious chocoholic? How about decorating your wedding with… chocolate?
As this sweet, tiered chocolate truffle display from Thomas Sweet shows, you can make an absolutely stunning and delectable centerpiece for your tables out of chocolate. This arrangement is made out of stacked boxes, some ribbon, a bit of artificial moss and silk rosettes, and a whole bunch of delicious chocolates. You can order bulk chocolates from a custom chocolatier like Thomas Sweet and choose the exact types you want.
And at the end of the evening, your guests can divvy up the remaining "decor" and bring it home to enjoy. Talk about a guaranteed crowd pleaser.
Fresh Fruit Infused Water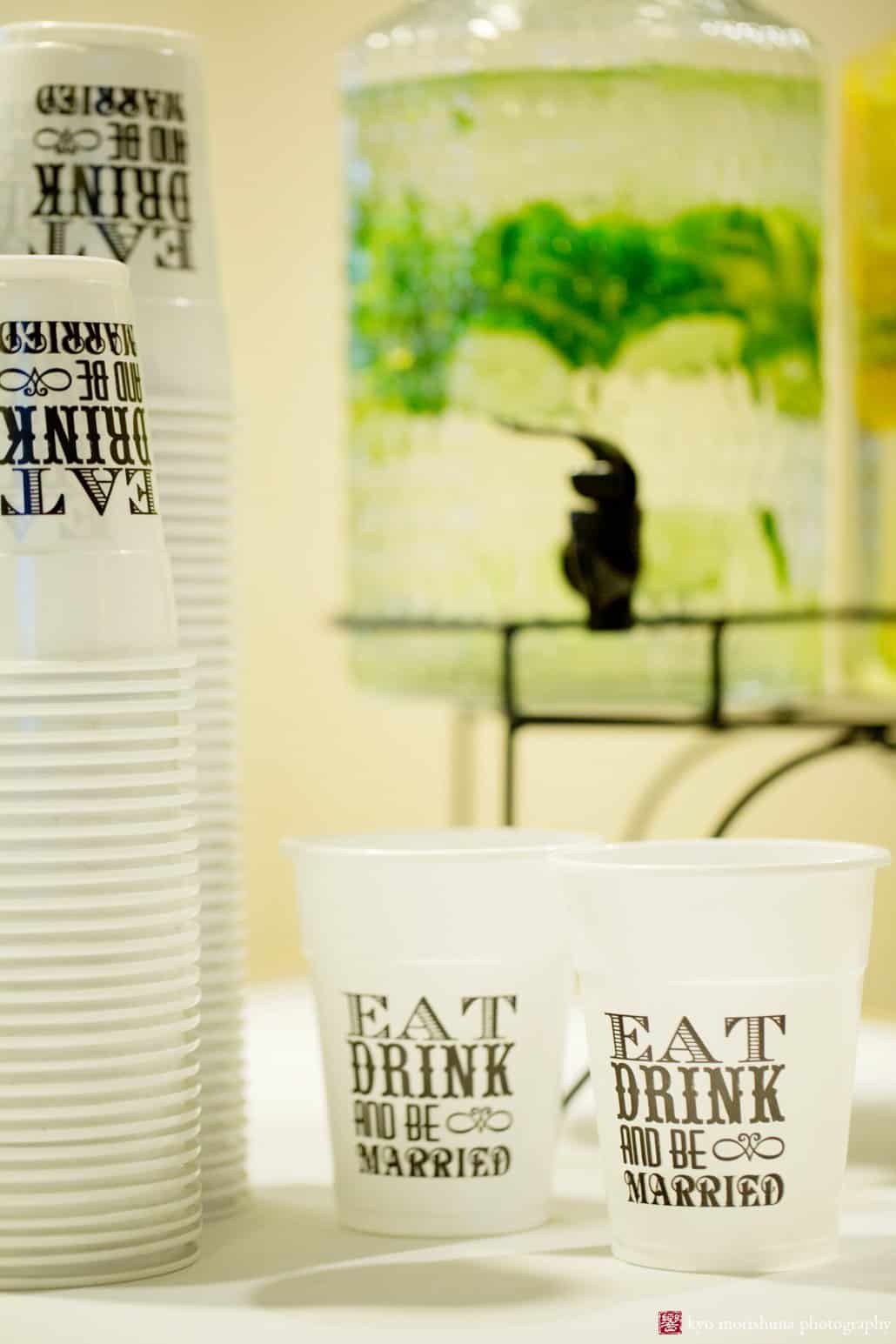 Here's a simple idea from the Nassau Inn. It's another idea that I can't really call "unique" because it's become so popular, but it's certainly simple and it's the perfect complement to an open bar: fruit-infused water.
All you need is a few large, pretty glass water dispensers, cups, and water with an assortment of sliced fruit and herbs. Some of the most popular recipes I've seen include:
Let your guests dance and drink the night away…. and keep them hydrated in style.
https://kyomorishima.com/wp-content/uploads/2017/03/kmp20170319-9179_nassau-inn-princeton-wedding-show.jpg
687
1030
Kyo Morishima
https://kyomorishima.com/wp-content/uploads/2014/04/kyo-logo-website1.png
Kyo Morishima
2017-03-29 14:53:22
2017-03-29 15:03:41
Unique and Simple Wedding Ideas from the Princeton Wedding Show