Over the past couple of weeks, we've been going through Kyo's photographs from 2016, remembering our favorite moments and all the fantastic people we got know and work with. We didn't count exactly how many photographs Kyo took in 2016, but it was definitely more than 100,000 frames. Somehow we narrowed that down to 90 of Kyo's best wedding pictures of the year for a photo essay, "Favorite Pictures 2016." Click the cover to take a peek.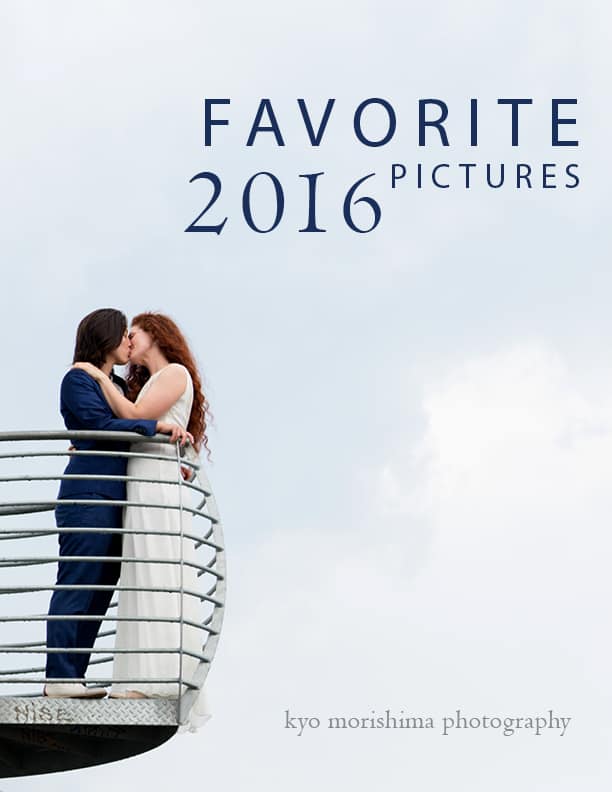 What's really great is that there is a story behind every photograph in this booklet. We want to give a shout-out to the people and places behind the scenes who helped make these moments.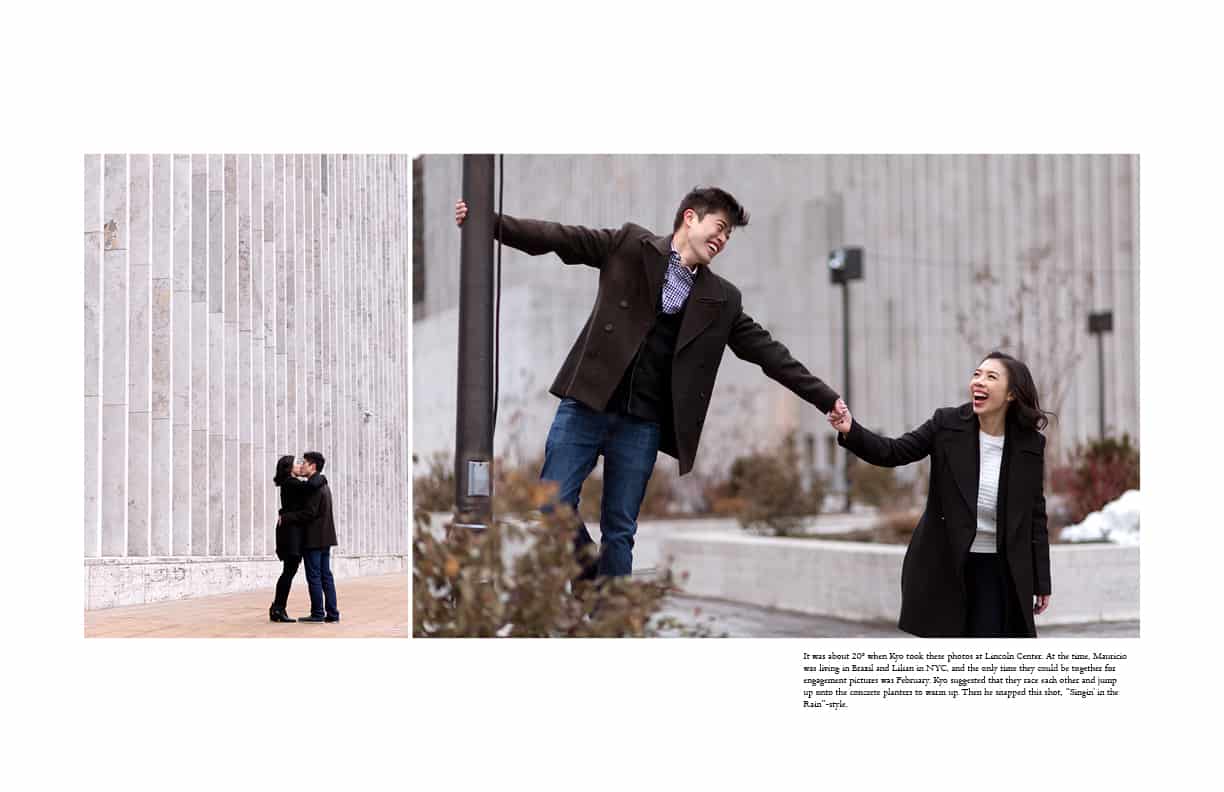 Lilian and Mauricio's engagement shoot proves that weather really doesn't matter. It was frigid and neither of them is a big fan of cold temperatures (Mauricio is from Brazil and Lilian is from Hong Kong). When Kyo took these pictures of them, they were still enduring a long-distance relationship and this was a rare occasion when Mauricio was able to visit Lilian in the U.S. They were so happy to be together, just hanging out at Lincoln Center.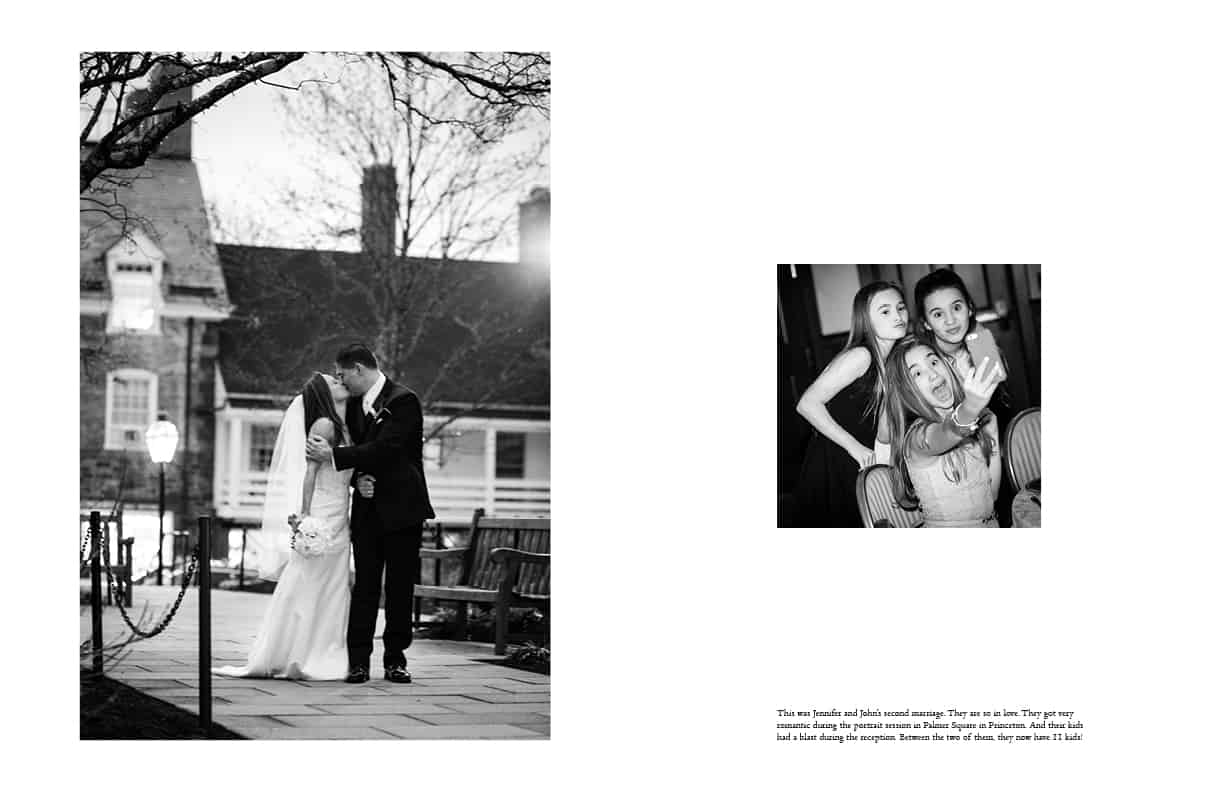 Jennifer and John's wedding was at the quaint and lovely Nassau Inn in Princeton. It was their second marriage and they combined their families: 5 kids on one side, 6 on the other — they almost made it to one dozen! Jennifer and John couldn't stop kissing and holding hands, and even better, their kids were just as thrilled to be becoming one big family.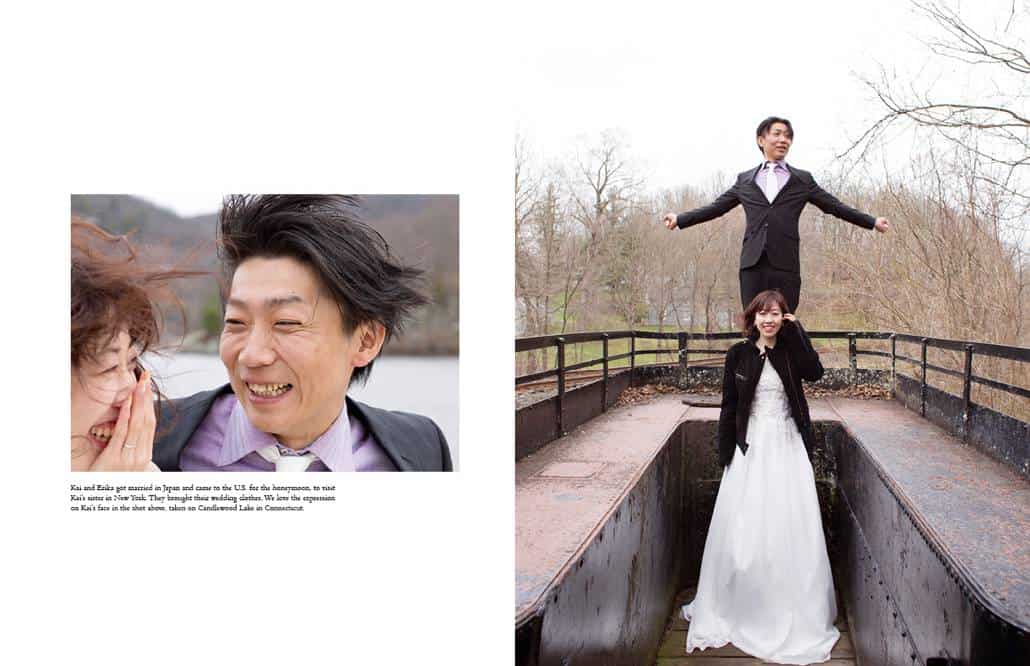 Kai and Erika live in Kyoto, Japan. They came to the U.S. to visit Kai's sister for their honeymoon, and hired Kyo to do a wedding portrait shoot while they toured the area around Candlewood Lake, Connecticut. The photo at right is at one of our favorite spots for hiking and playing outdoors: the Connecticut Antique Machinery Association in Kent, CT.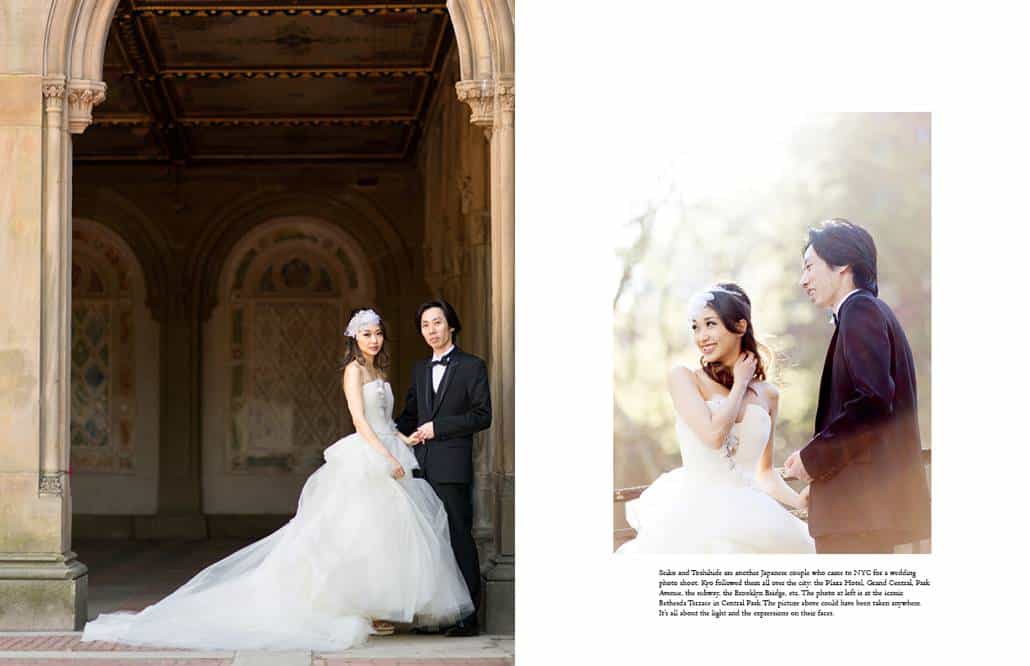 Seiko and Toshihide were another couple who visited the U.S. for their honeymoon and wanted a "photo tour" in NYC. Seiko wore an absolutely stunning wedding gown by Vera Wang, and a hairpiece by Colette Malouf. What was really cool about this photos shoot was that they hired one of our favorite people, hair and makeup artist Hiroko Sacripante, to style Seiko throughout the day. Hiroko is one of the most down-to-earth, talented makeup artists we know. Not only does she style weddings and fashion shoots, she also teaches makeup and writes for Japanese fashion magazines.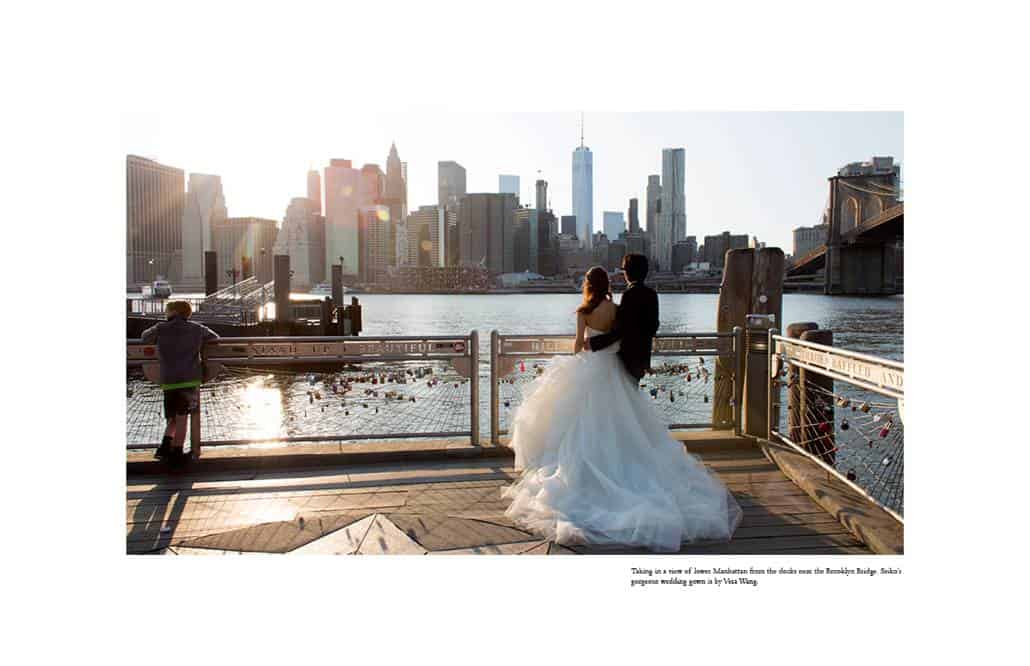 One of the best locations for iconic NYC wedding photographs is Brooklyn Bridge Park. Even better when the sun is just beginning to set.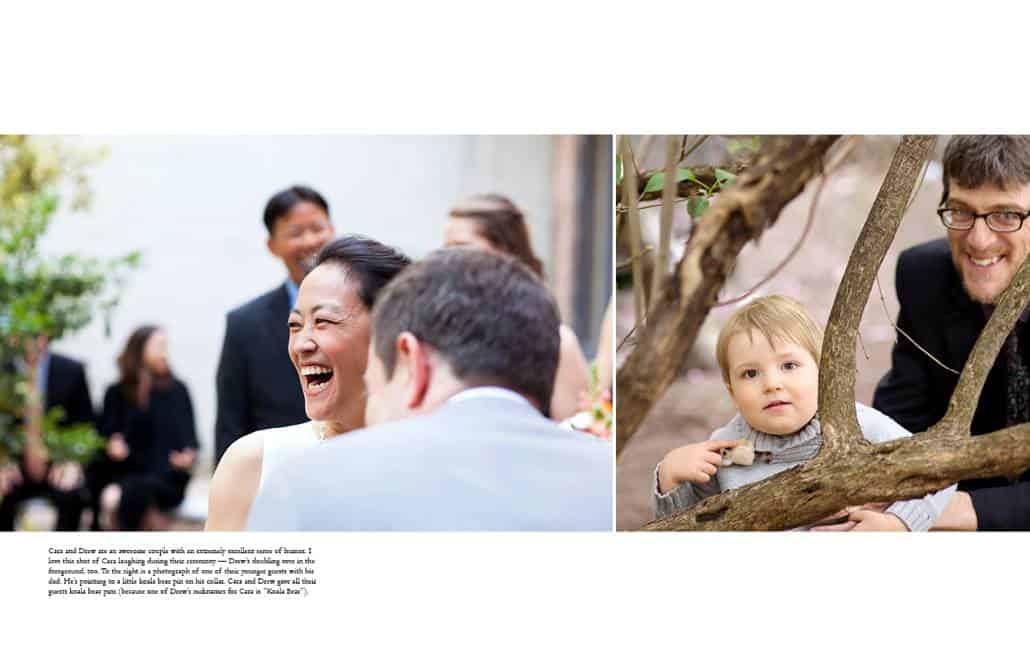 Cara and Drew both have a dry sense of humor and like to make each other laugh. At their wedding, held in the outdoor courtyard at Invisible Dog Art Center in Boerum Hill, Brooklyn, the ceremony was filled with one-liners. Another thing that we loved about their wedding were the tiny koala bear pins they distributed to all the guests (you can see their littlest guest pointing to his koala in the picture on the right). It was an homage to Drew's nickname for Cara: "Koala Bear."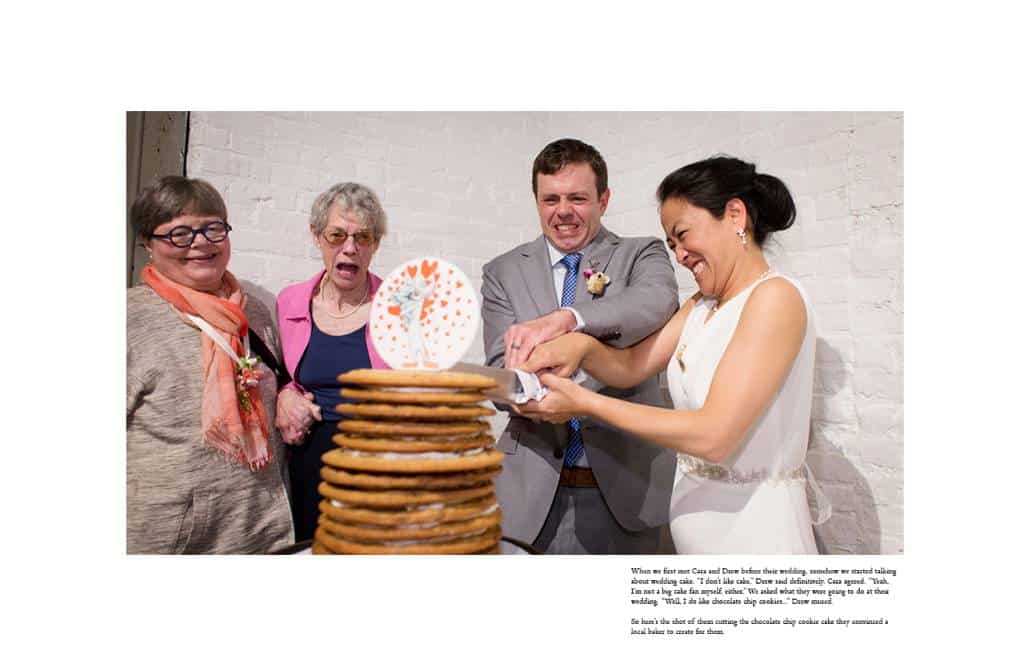 Neither Drew nor Cara especially like cake. So they decided to forego cake altogether, and instead ordered a stack of chocolate chip cookies from Naidre's Cafe and Bakery in Park Slope. The cake topper is a candy medallion with a drawing of koala bears by Drew.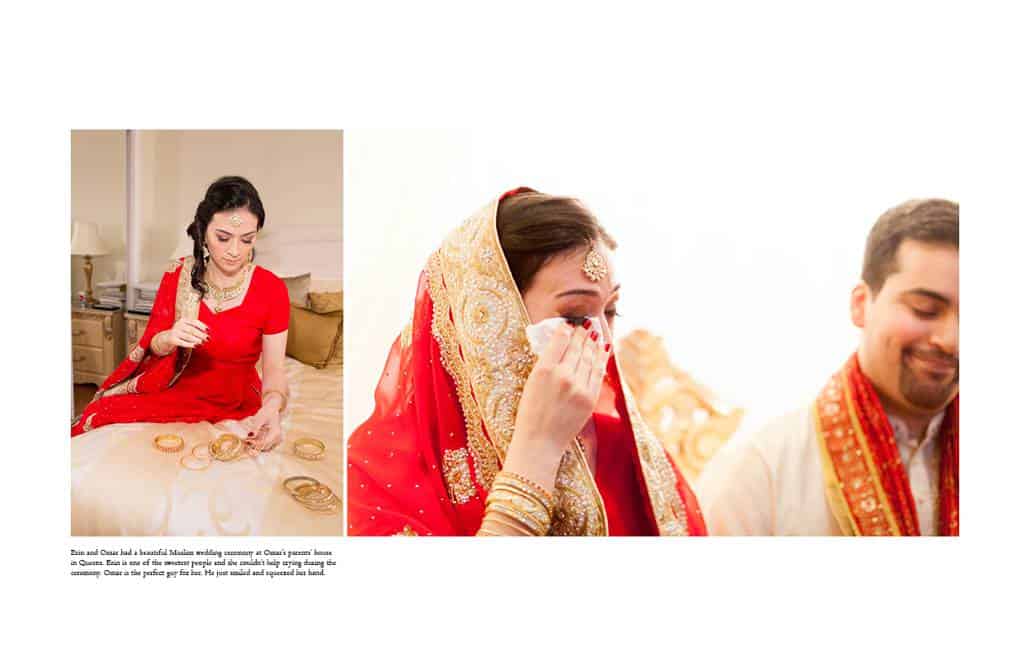 Erin looked gorgeous in her fire-engine red sari. She and Omar had two wedding ceremonies: a Muslim ceremony at Omar's parents' house in Queens, and a non-denominational ceremony at Chart House in Jersey City. Erin couldn't help crying at both ceremonies.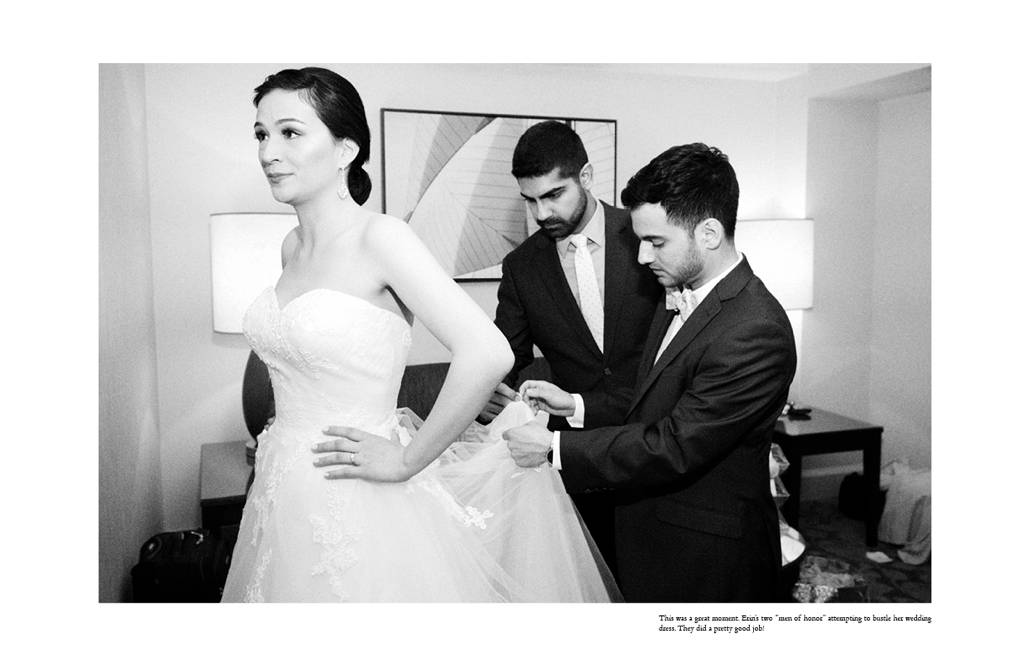 This photo of Erin getting ready for her wedding at the Hyatt Regency Jersey City makes me smile. It proves that "men of honor" are just as capable as bridesmaids at bustling a wedding gown.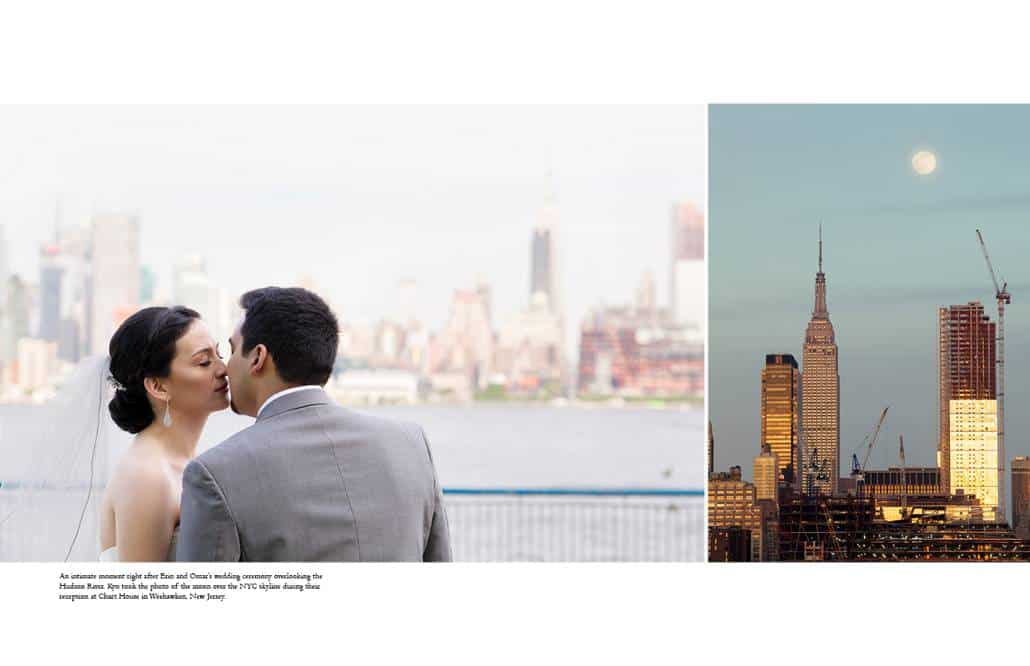 Erin and Omar's Western wedding ceremony was at Chart House in Weehawken. They got married on the deck with spectacular views of Manhattan and the Hudson River behind them. In the evening, there was a full moon rising over the city. The last rays of the sun tinted the skyscrapers an almost unbelievable yellow gold.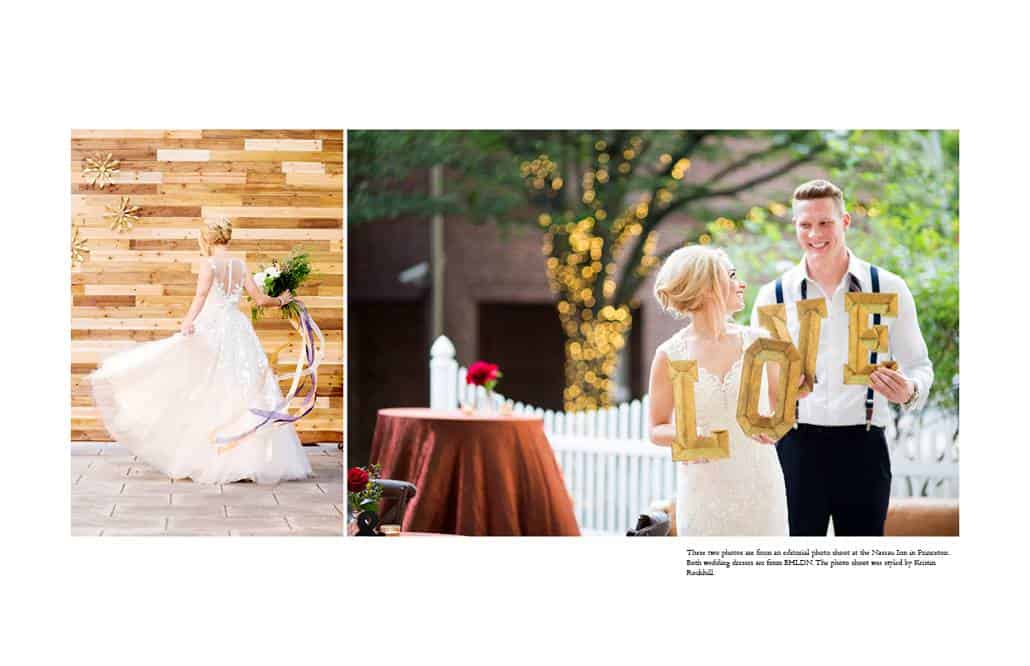 These two shots were from an editorial photo shoot at the Nassau Inn in Princeton styled by Kristin Rockhill. The bride is wearing two different dresses from BHLDN, and her fabulous bouffant updo was styled by Letitia Kakas of The Capelli Shop. The models were not professionals — they were friends of a friend of Kristin's — but they *were* a couple in real life and their chemistry in the photographs was fabulous. By the end of the photo shoot we were all teasing them about when they were going to get engaged.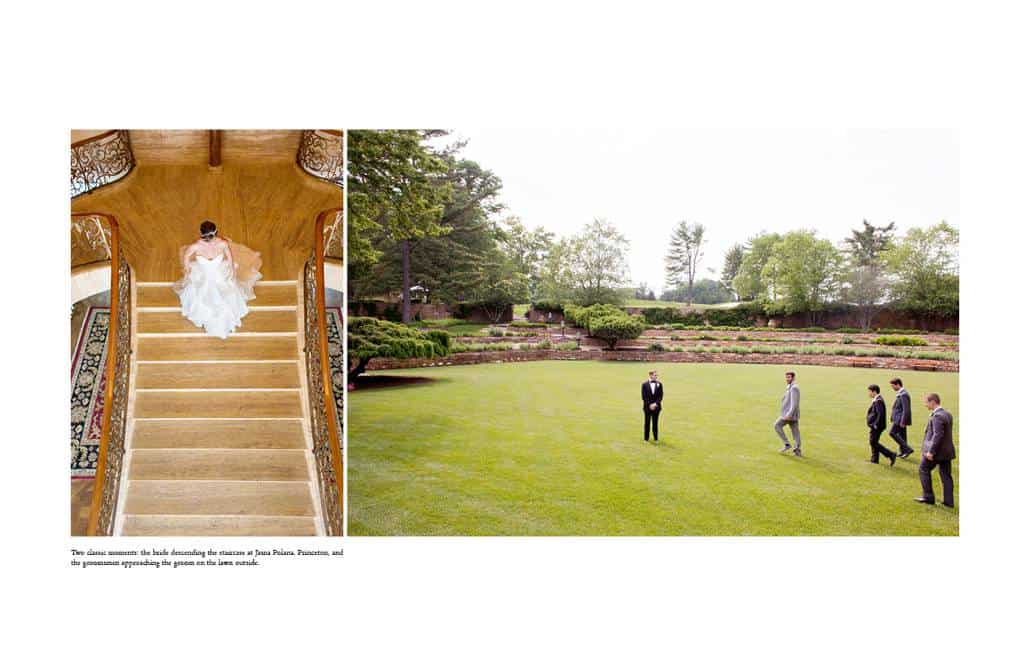 In the first photograph, Jordan descends the staircase at Jasna Polana, the golf club and former estate of John Seward Johnson. In the photo on the right, David stands on the lawn as the groomsmen join him for the portrait session. Jasna Polana is one of our favorite wedding venues in Princeton. For a photographer, it's packed full of photogenic nooks and crannies: the long winding drive, the cobblestone courtyard in front of the mansion, the expanse of the golf course, the formal gardens, the outdoor sculptures, the reflecting pool, the stone staircases, the grand foyer covered in marble, tapestries, and rugs… not to mention the absolutely incredible bathroom attached to the master suite. (You have to see it!)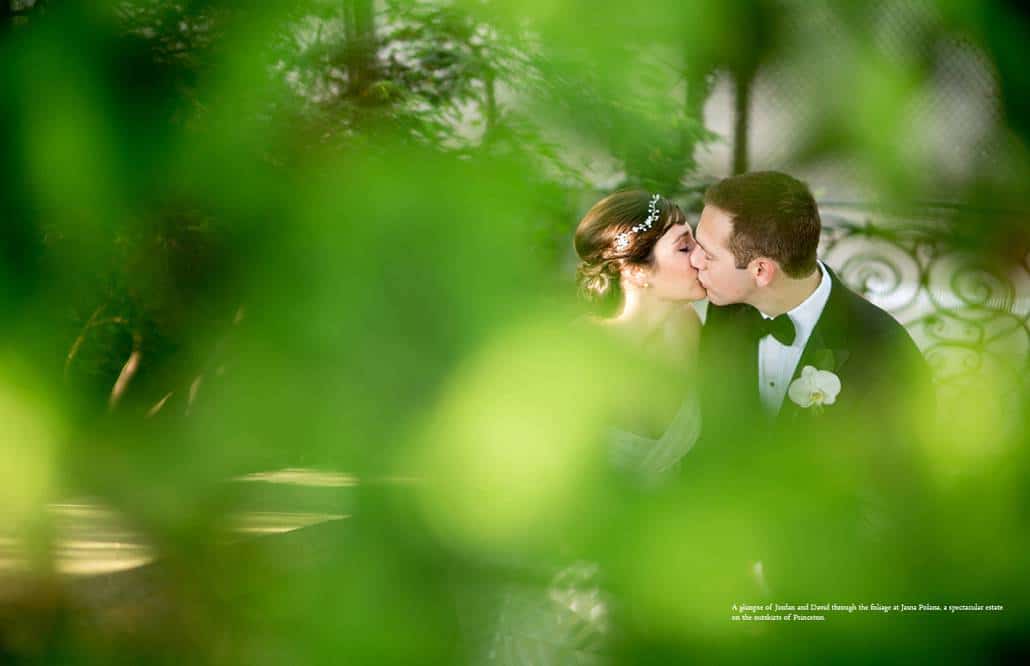 Here's a shot of Jordan and David kissing on the stone steps near the tennis courts at Jasna Polana. David is wearing an orchid boutonniere by flower designer Katherine Toland, a fabulously talented artist based in Hopewell, NJ.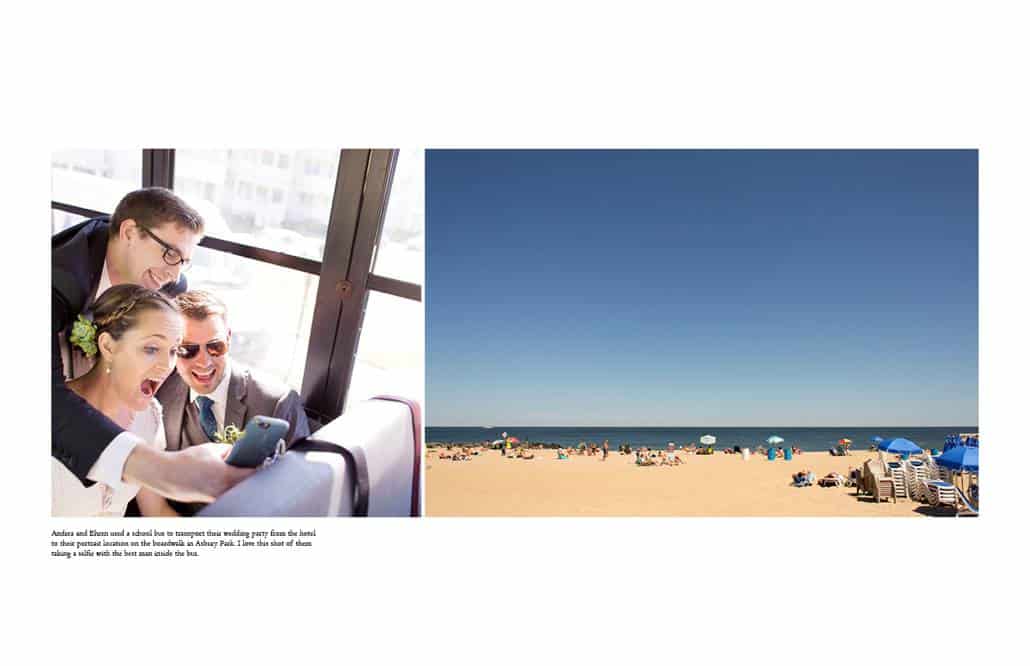 Andrea and Ehren are both marine scientists and live on the Jersey Shore, so a beach wedding in Asbury Park was perfect for them. Catherine wore an unusual and striking wedding dress by Catherine Deane, and Cindy Castro from Evolution Spa & Salon styled her hair with a pair of succulent rosettes pinned at the nape of her neck.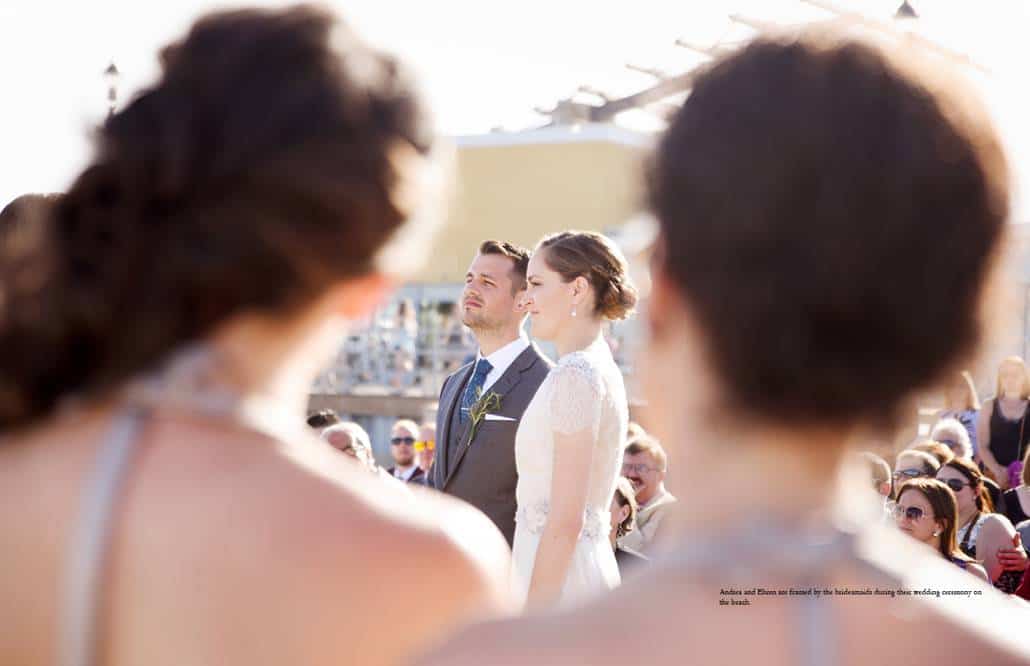 I love the framing of this photograph of Andrea and Ehren at their wedding ceremony on the beach in front of Tim McLoone's Supper Club. For part of their ceremony, Andrea and Ehren walked down to the edge of the ocean and threw shells into the waves, on which they had written special messages of hope and blessing for their marriage.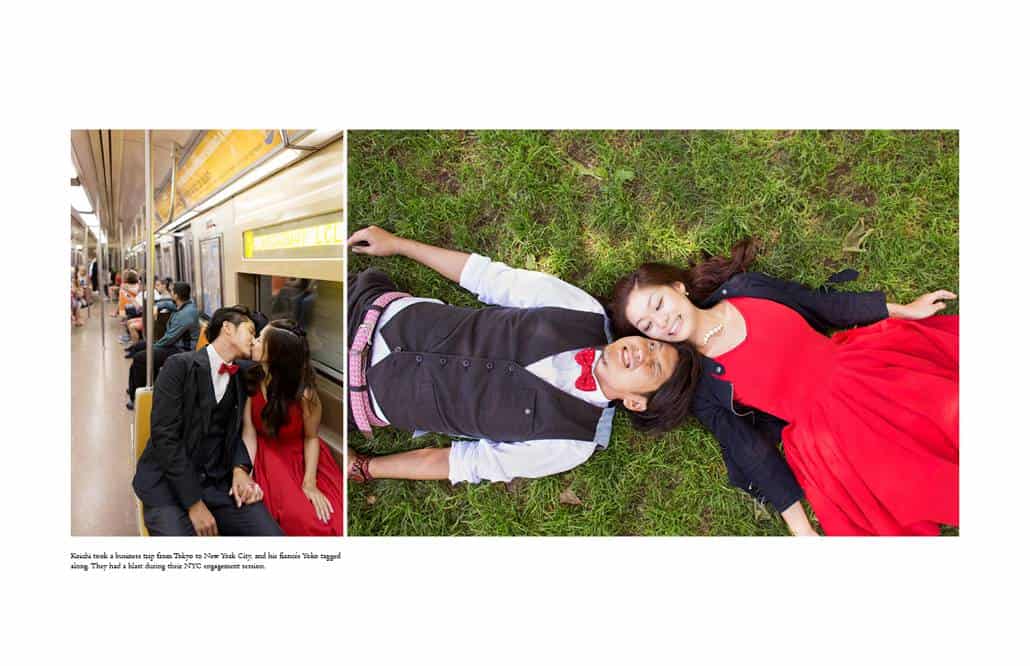 Koichi came to NYC on a business trip from Tokyo. His fiancée Yuko joined him for a few days of fun in the city, and Kyo photographed their Central Park engagement session. Although Japanese people have a reputation for being stiff and undemonstrative, Yuko and Koichi had a fun-loving attitude.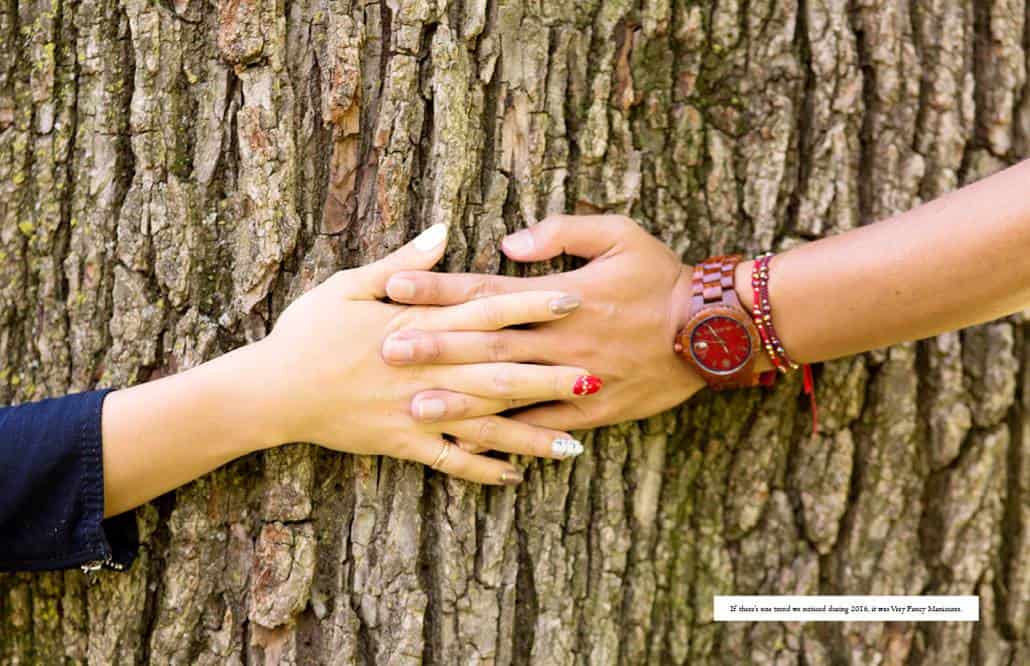 In this picture, Yuko and Koichi are clasping hands around an old oak tree in Central Park. As we noted in the essay, elaborately designed manicures are very popular these days. If you're interested in a Japanese gel manicure, one of our clients highly recommends Fumic Jewelry Nail in Harlem, a salon that specializes in Japanese-style gel nail art and embellishments.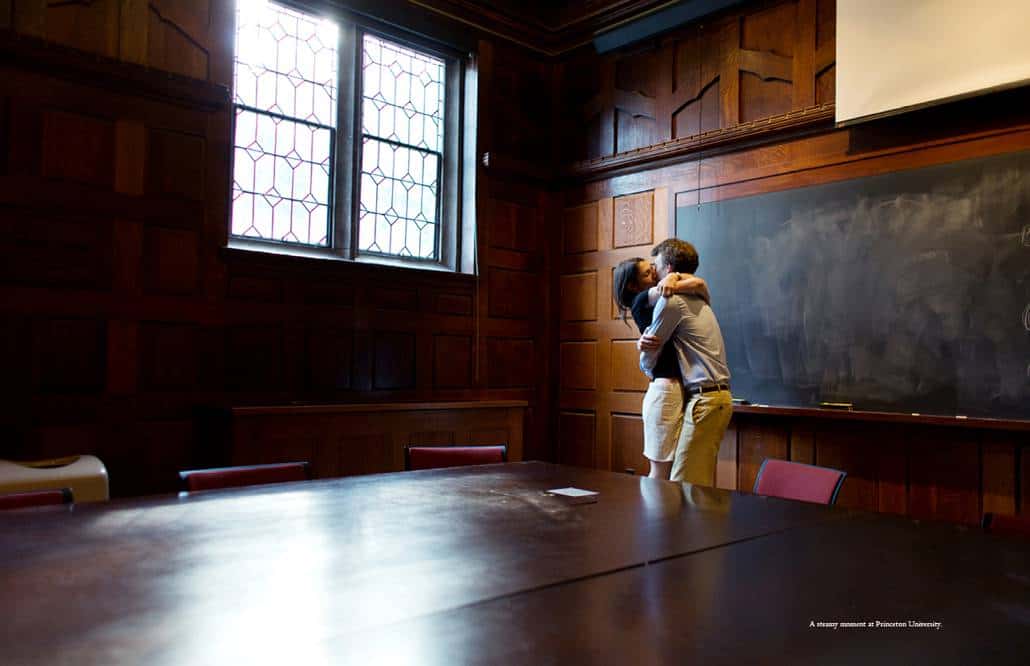 This couple told us that they were worried about their engagement session because they don't really like having their picture taken and tend to look awkward in photos. They originally met in a Shakespeare class when they were undergraduates, so Kyo took pictures of them in one of their old classrooms at Princeton University. They don't look too awkward here!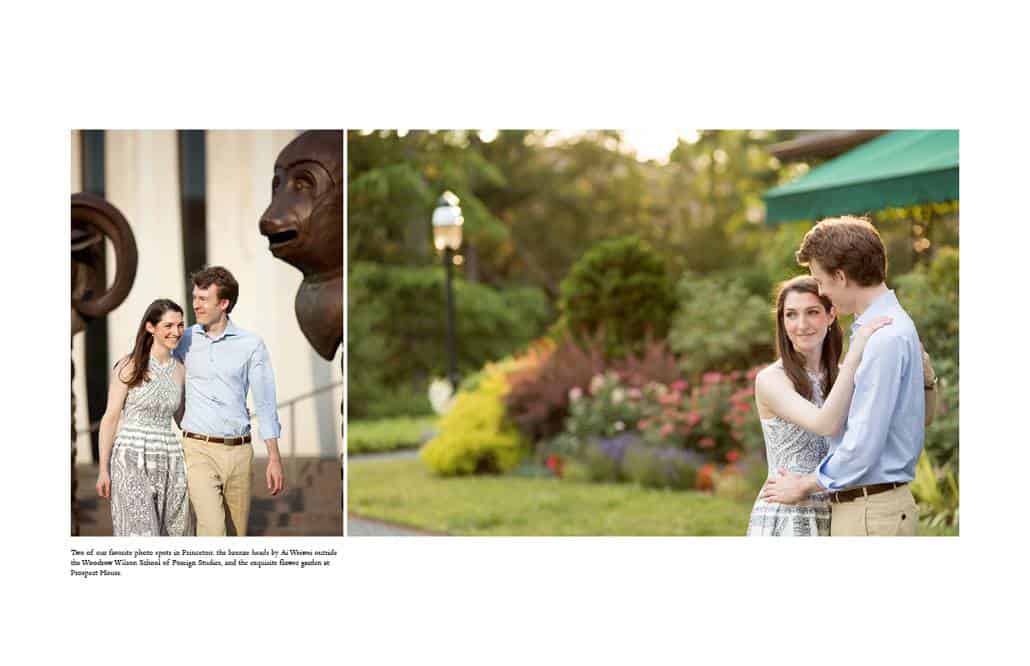 These two spots are two of our very favorite locations for photos on Princeton University campus: the grand plaza in front of the Woodrow Wilson School, and the gorgeous gardens behind Prospect House.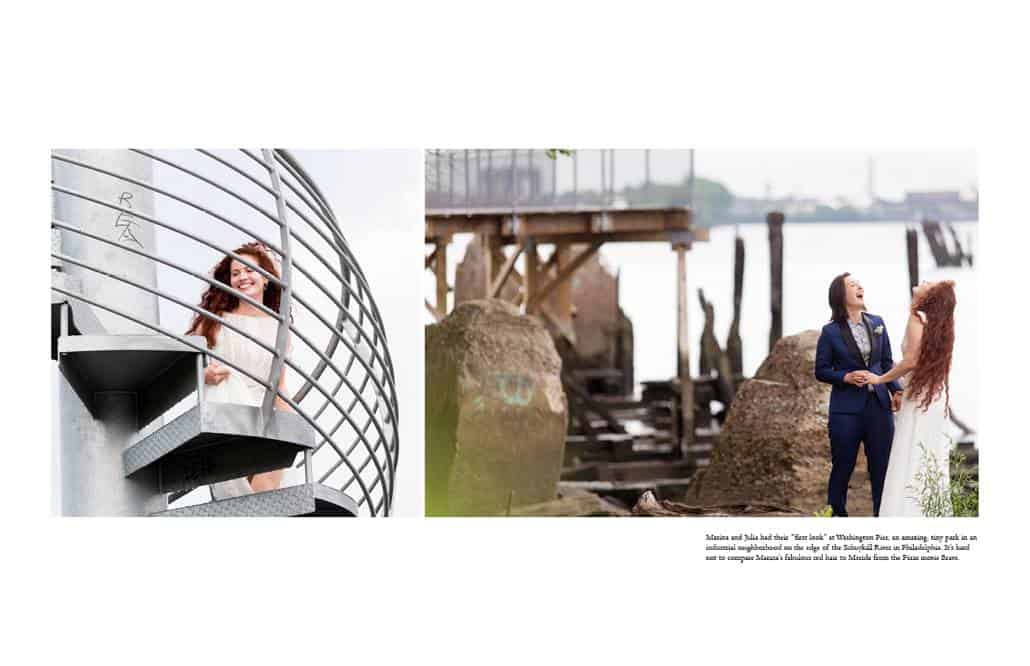 Julia and Marina's wedding portrait session at Washington Avenue Pier Park in Philadelphia was just magical. It was drizzly and grey, but that just added a dreamy atmosphere to the photo shoot, and Marina and Julia couldn't have been happier — the rain didn't affect them in the least bit. The "Land Buoy" art installation is a spiral staircase reaching toward the sky; a phenomenal place for unusual wedding portraits. The park is tiny but full of ingenious landscaping of native plants. We highly recommend a visit.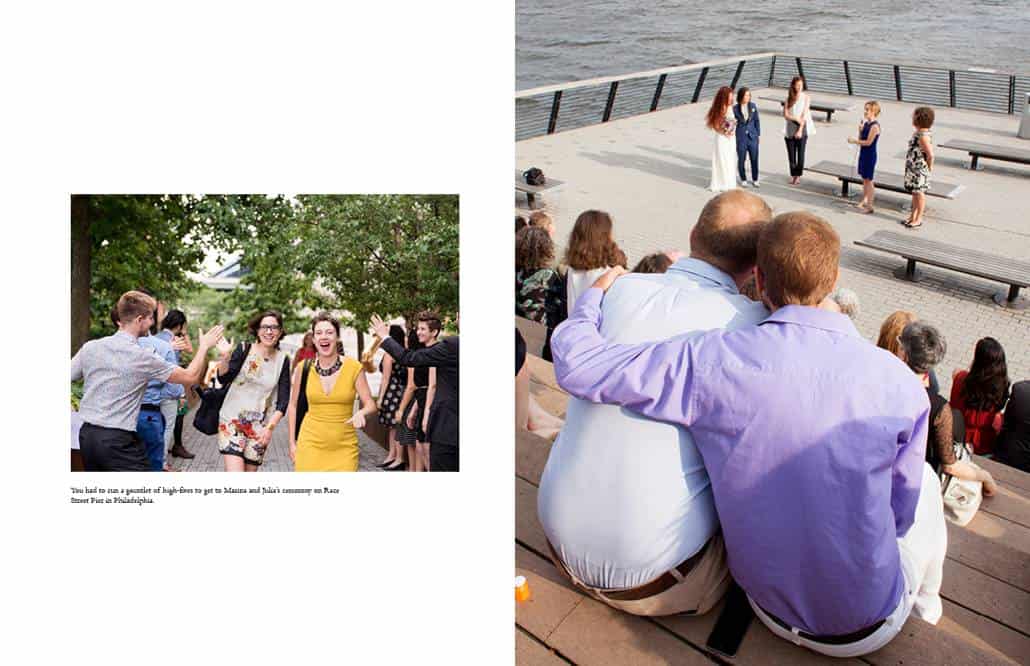 Marina and Julia held their wedding ceremony just a few blocks away, at Philadelphia's Race Street Pier. They organized their ceremony similar to a Quaker wedding, with numerous friends and family speaking extemporaneously in support of their marriage.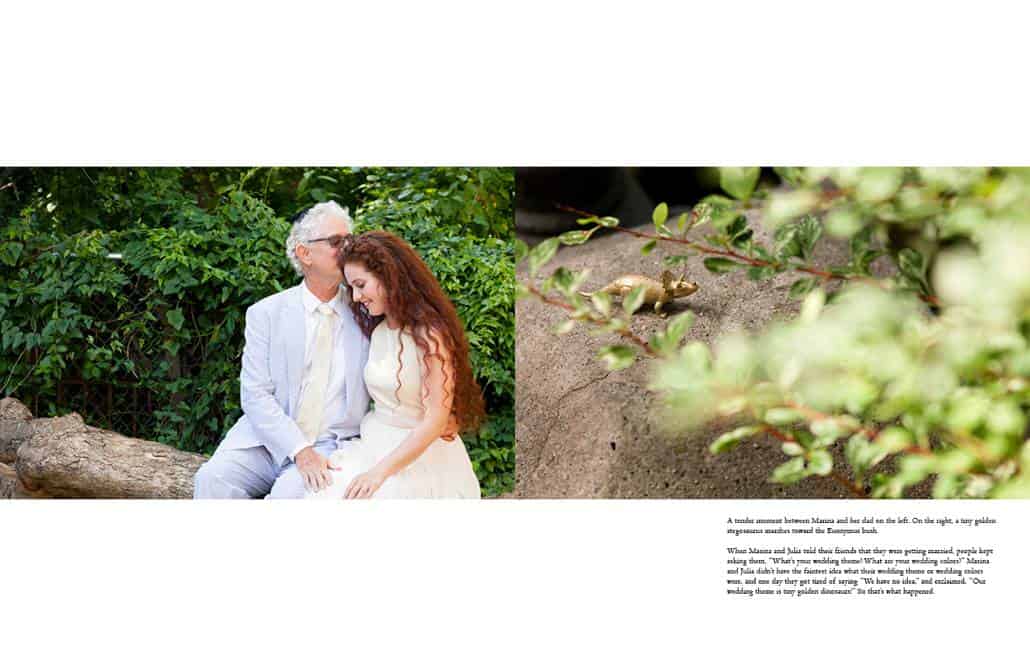 We love this photo of Marina sharing a tender moment with her dad. (And her dad looks pretty sharp, too — note to male wedding guests: a seersucker suit looks fabulous in the summertime!)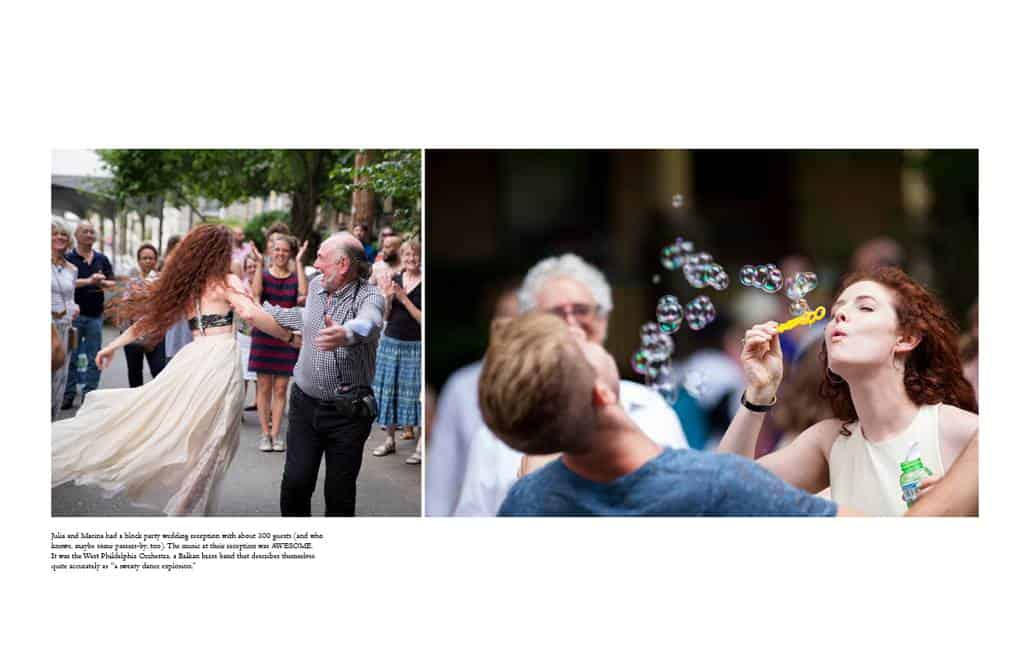 Marina and Julia had a block party wedding reception. Yes, that's right, a block party. They got a permit to shut down their street, ordered a bunch of delicious ethnic takeout, got some kegs, and set up a bouncy house, balloons, sidewalk chalk, a pinata, etc. And best of all, they hired the West Philadelphia Orchestra, an insanely talented Balkan brass band (aka "sweaty dance explosion") to entertain their guests. It was IMPOSSIBLE not to dance.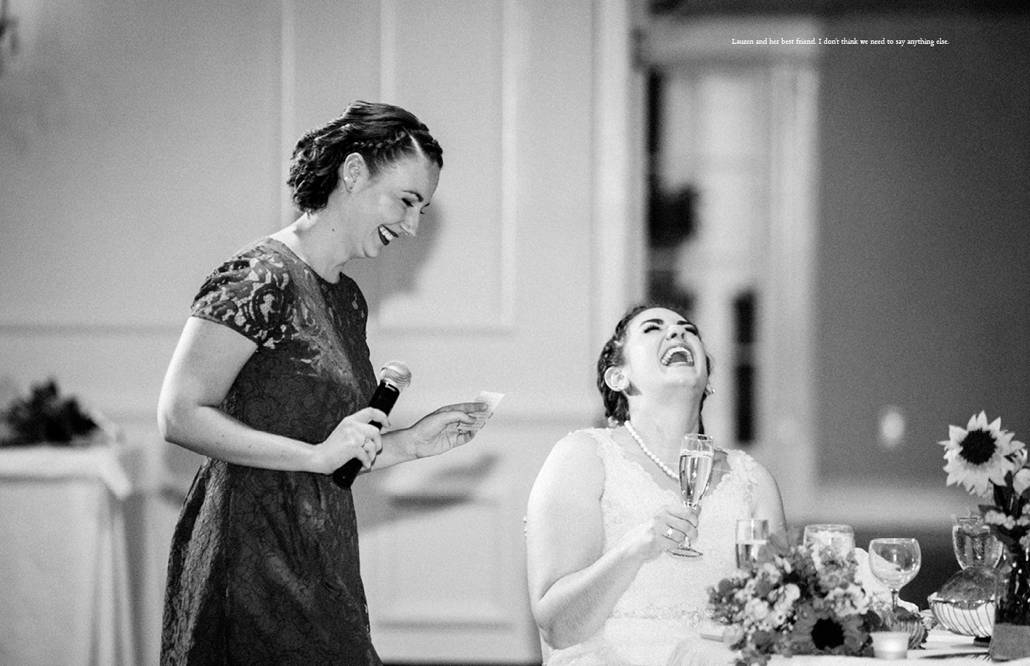 Lauren and her best friend had so many huge smiles throughout this wedding at Perona Farms.  (And by the way, the sunflower you can glimpse on Lauren's table is actually handmade — Lauren and her mom painstakingly created cut-paper sunflower and hydrangea centerpieces for all the tables.)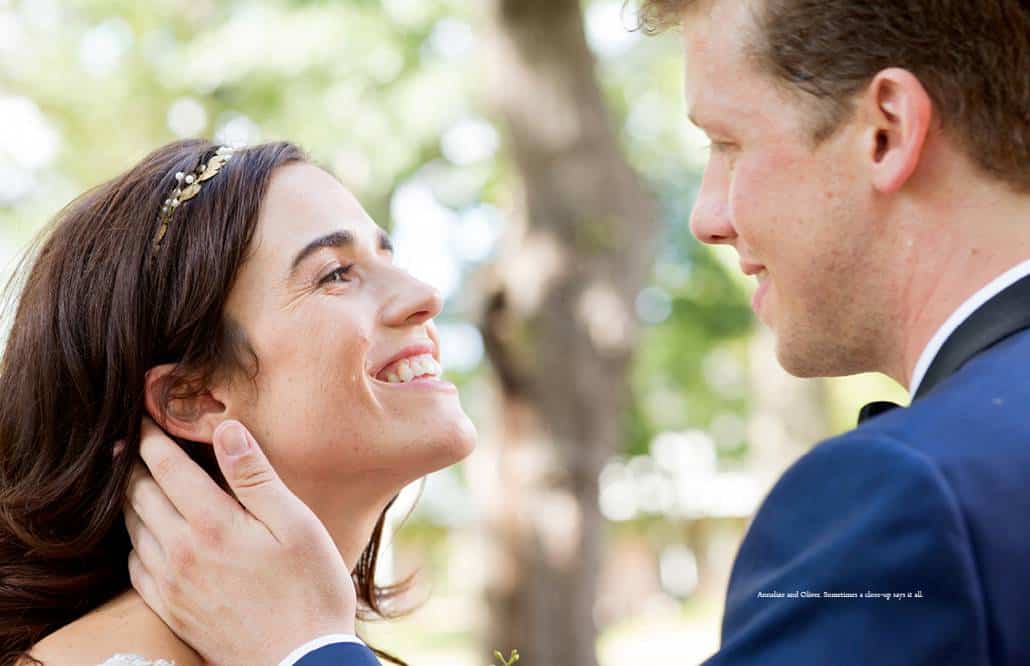 Annalize and Oliver are such a romantic couple. When we first met them in a cafe, they were already bubbling over with excitement about their wedding, and they planned it together with so many unique details. They love food and chose to have their reception at a neighborhood trattoria in Brooklyn, Frankies 457 Spuntino. They decided to forego dancing and just focus on a long, leisurely dinner with incredible dishes.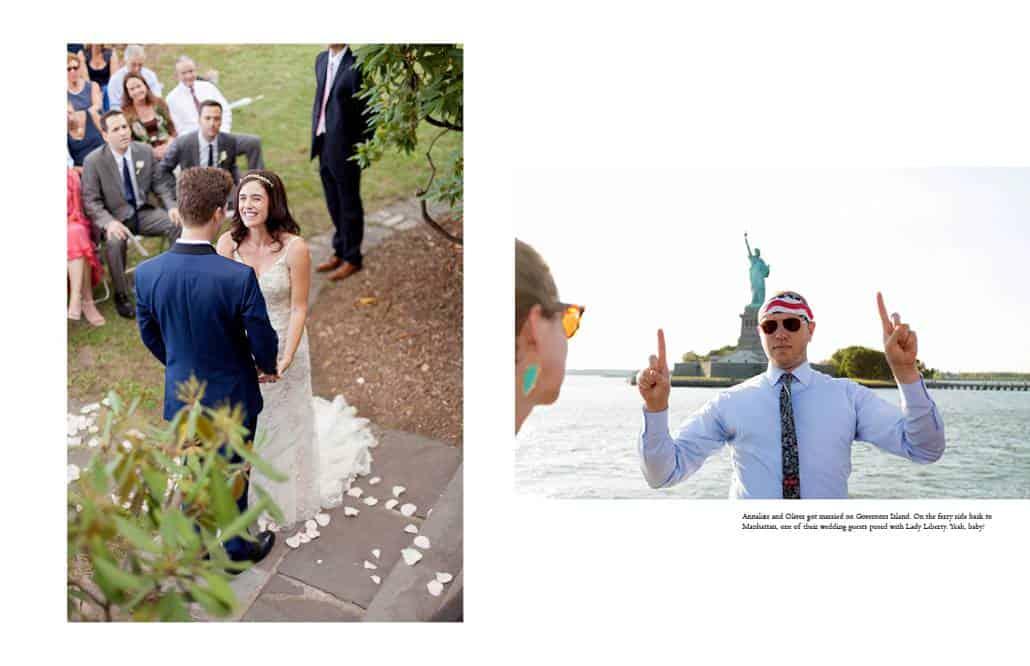 The left-hand shot above perfectly captures the spirit of Annalize and Oliver's wedding ceremony on Governors Island. It combined poetry, song, and heartfelt original vows, and both Annalize and Oliver swung the gamut of emotions from tearful solemnity to laugh-out-loud joy. The ferry ride with their guests back to Brooklyn was full of merriment; this snapshot of a guest posing with the Statue of Liberty always makes us smile.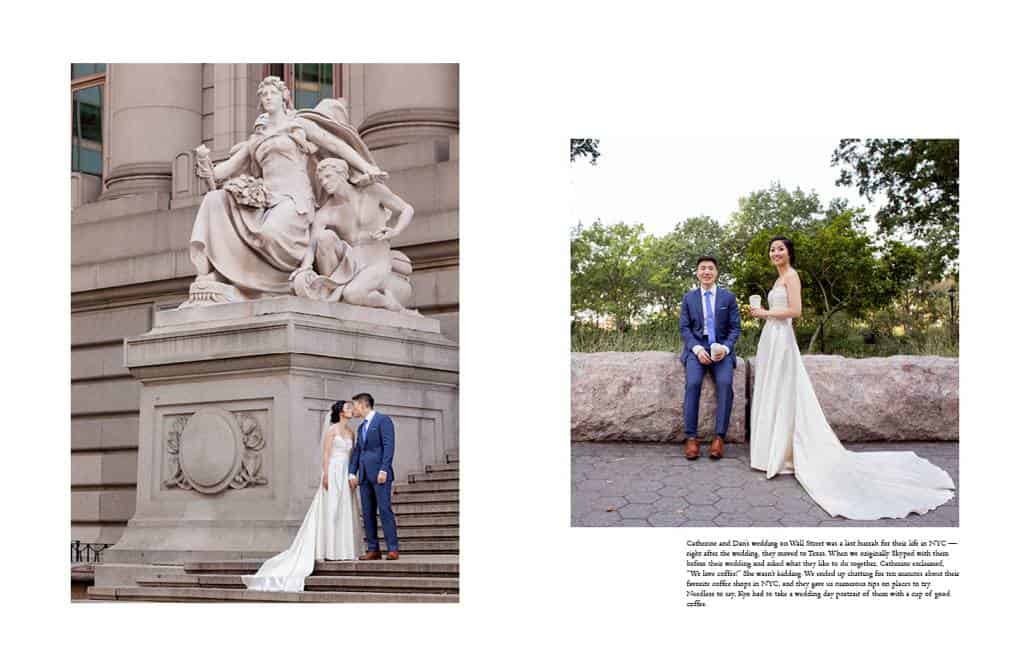 Catherine and Dan love good coffee so Kyo had to capture a photo of them on their wedding day holding a great cup of coffee from a downtown cafe.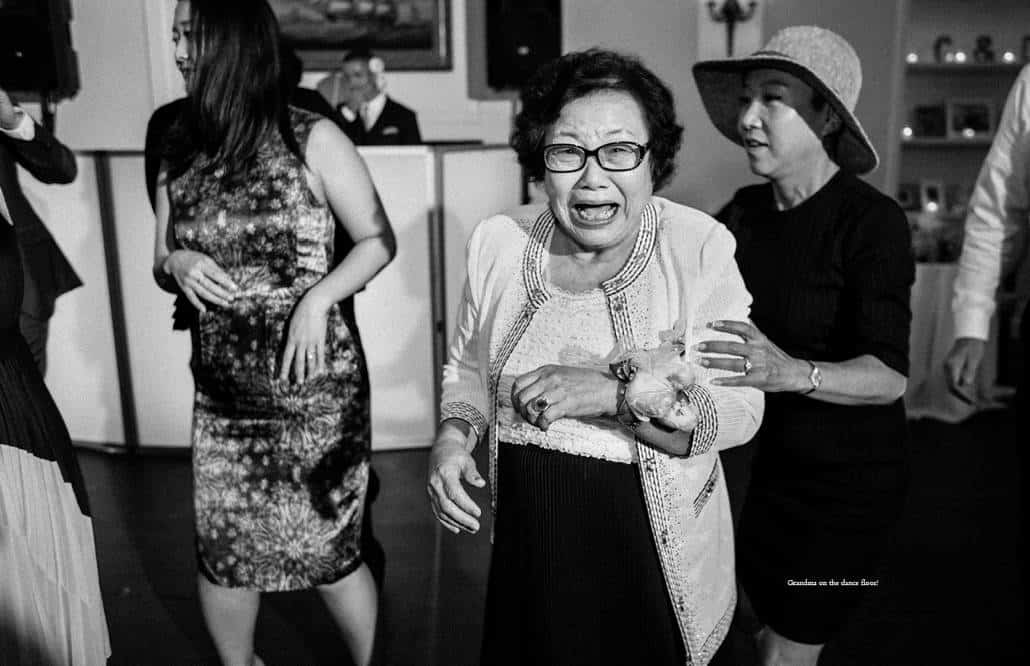 We always love photos of grandmas and grandpas getting groovy on the dance floor. Catherine's grandma had an absolute blast during their wedding reception at India House, a great hidden gem of a venue in the Wall Street area.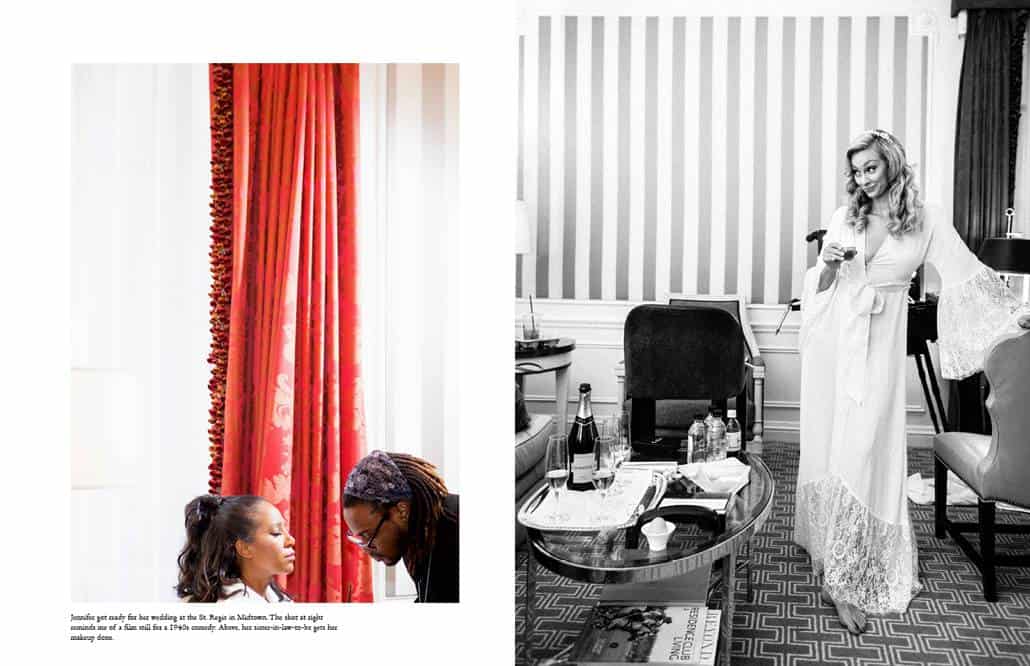 At right, Jennifer offers a trademark glance with uplifted eyebrow as she gets ready for her wedding at the St. Regis New York. At left, her lovely sister-in-law closes her eyes while she gets her makeup done. (Marcello Costa was the lead makeup artist at Jennifer's wedding.)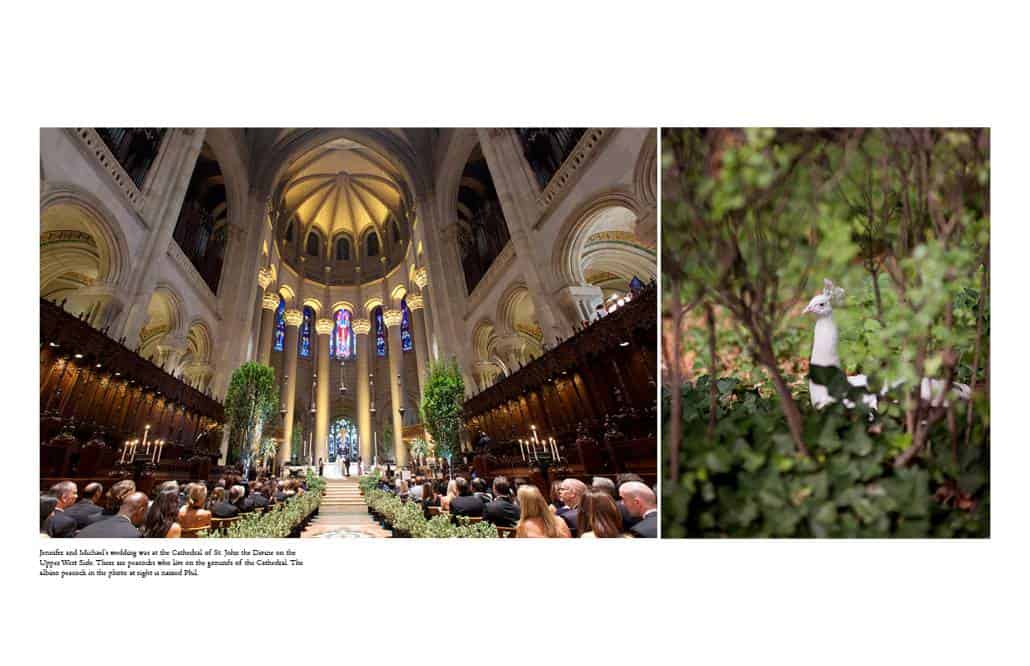 Jennifer and Michael's wedding ceremony at the Cathedral of St. John the Divine was just breathtaking. Michael organized the foliage and decor lining the altar and aisle himself, using three different nurseries (SJC Lawncare, Rohsler's Allendale Nursery & Florist, and Barton Nursery). The photograph on the right of Phil, the albino peacock who walks the grounds at the cathedral, matches the garden of paradise feel.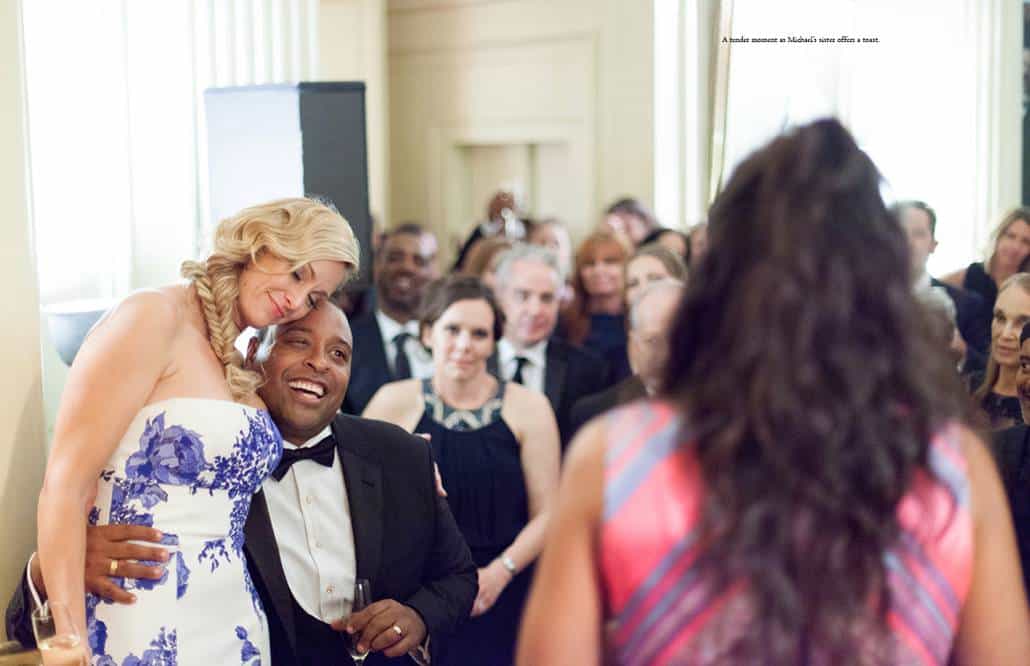 This was such a beautiful moment during the toasts at Jennifer and Michael's Lotos Club wedding reception. Michael and his sister are very close, and she spoke so movingly during both the ceremony and reception. We love the expressions on Jennifer and Michael's faces.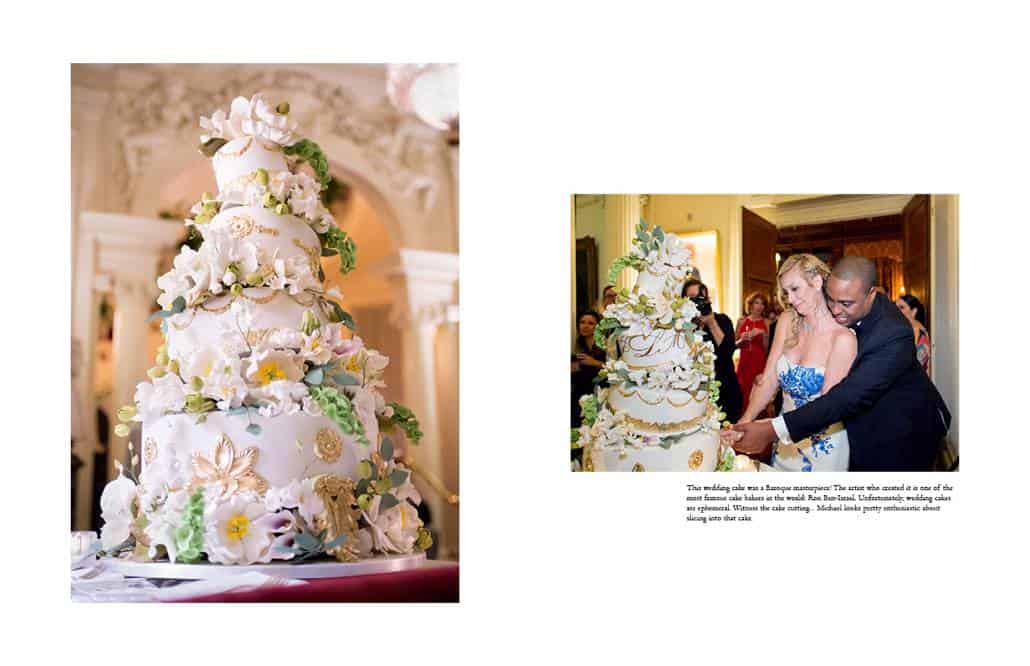 This wedding cake was stunning! The artist who created it was Ron Ben-Israel, "the Manolo Blahnik of wedding cake designers," according to the New York Times. The special secret about Ron Ben Israel is that not only does he create completely unique designs, but he is also one of the nicest people you'll ever meet.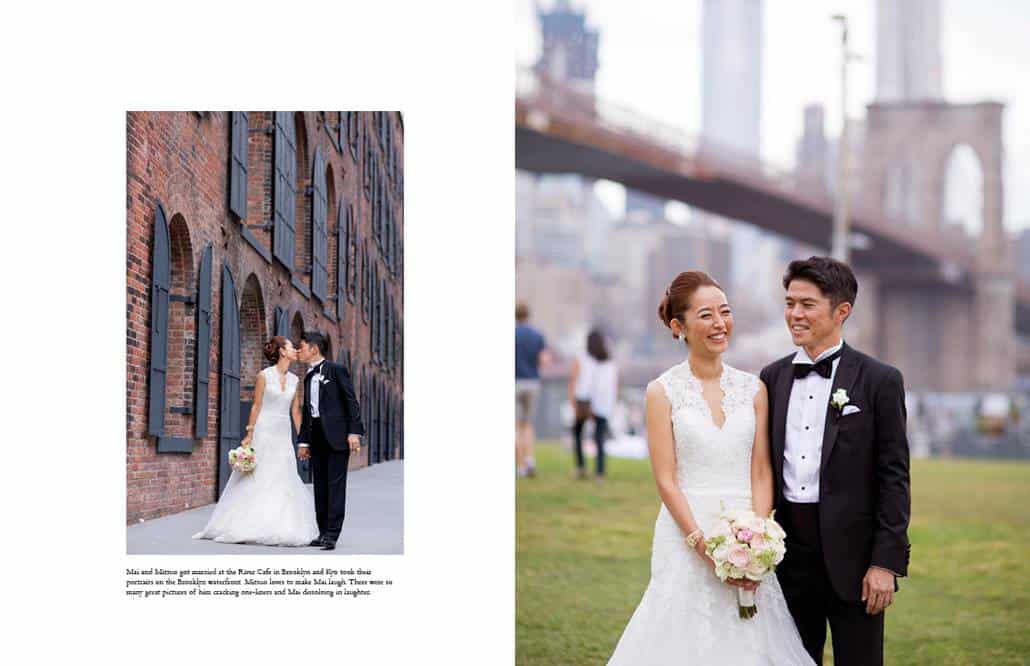 Mai and Mitsuo are a Japanese couple who are working temporarily in NYC. They wanted a Japanese wedding photographer for their intimate wedding at the River Cafe in Brooklyn, because most of their guests were Japanese and they needed someone who could communicate with everybody. Kyo had a great time hanging out with them and meeting their wonderful families, and he loved how Mitsuo couldn't help cracking jokes to get Mai laughing. Etsuko Chiba was the Japanese wedding planner who pulled together their exquisite celebration.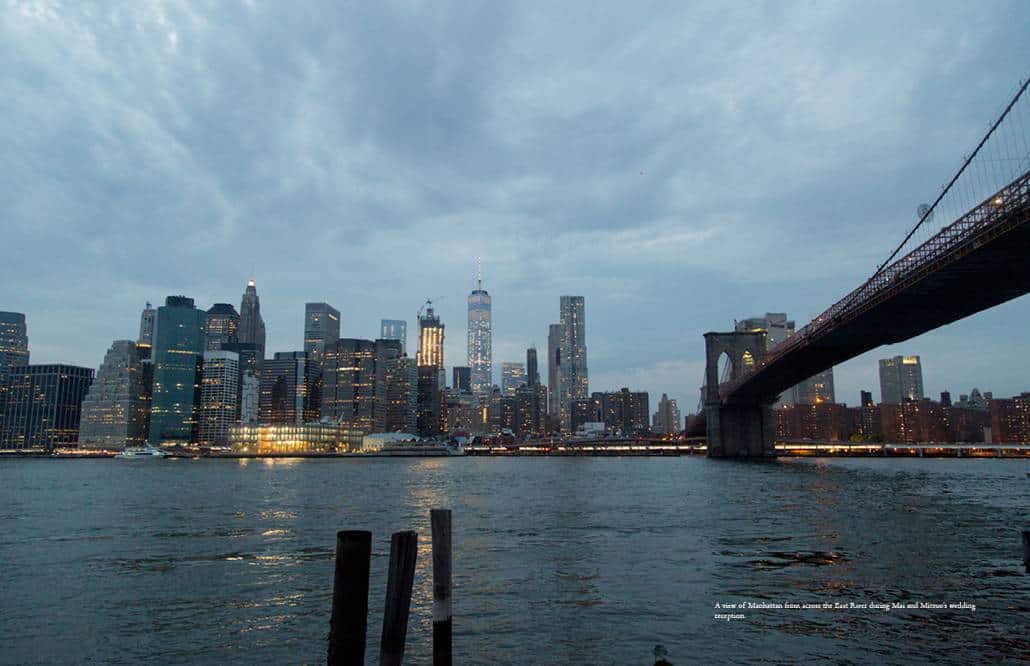 One of the great things about photographing weddings from certain vantage points in NYC is that you can get fabulous cityscapes, like this view of downtown Manhattan from right next to the Brooklyn Bridge.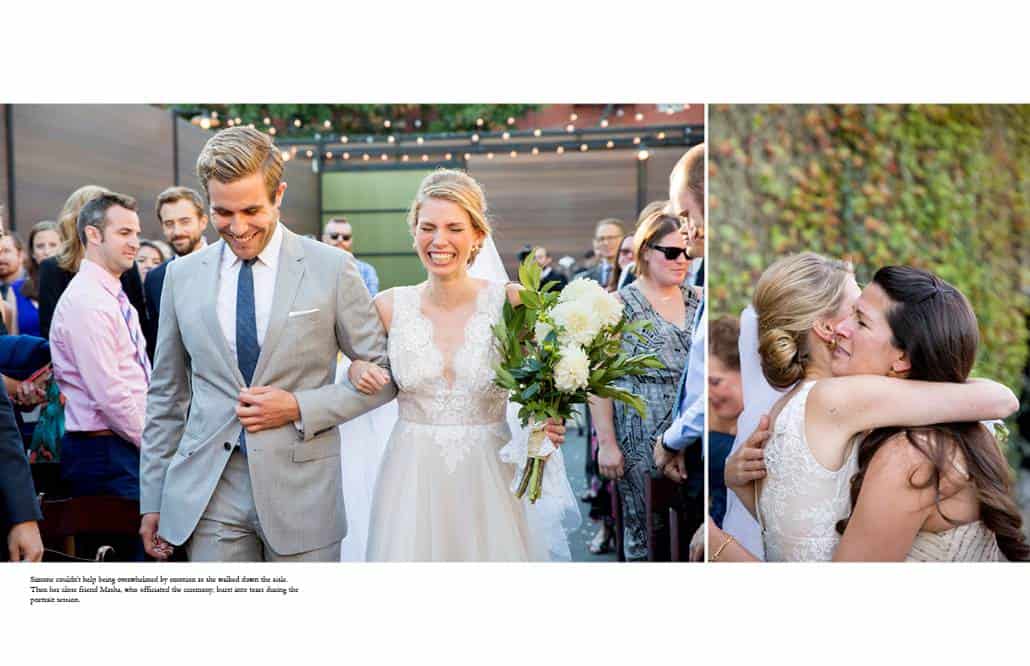 This Green Building wedding in Gowanus Brooklyn was full of emotional moments. Simone was smiling and crying at the same time as she walked down the aisle. As Kyo was photographing her, he could hear her husband-to-be, Adam, starting to cry behind him. In the picture at right, their officiant (and close friend) burst into tears as she hugged Simone. (Simone's delicate lace wedding dress is by Shareen Bridal.)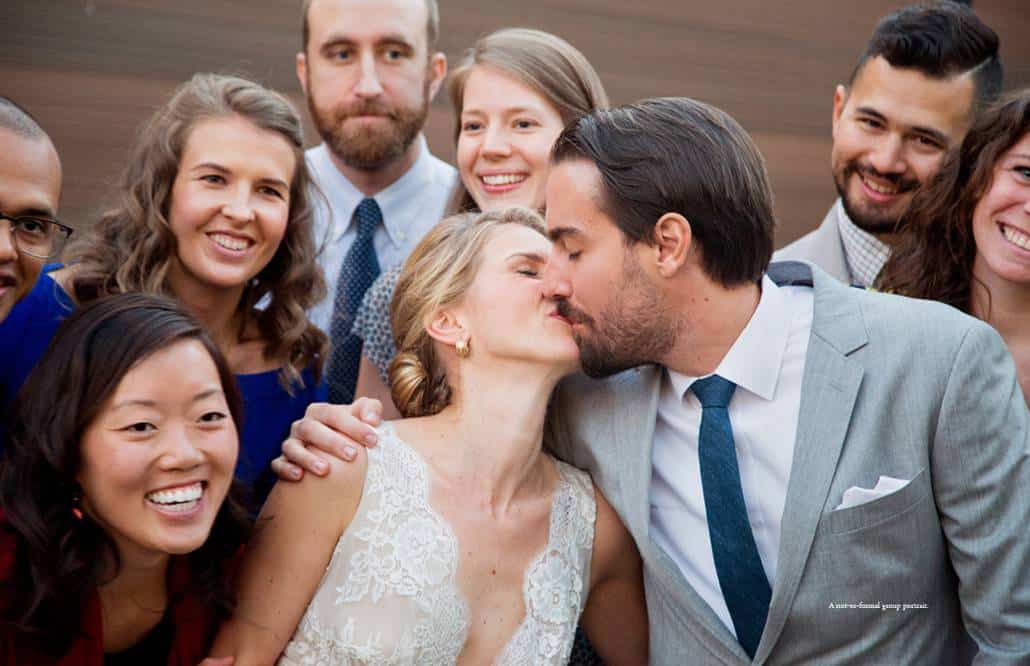 Not all group portraits need to be formal! This photo doesn't follow any of the rules of portraiture (several of the subjects' faces are partially cropped), but it gives such a fresh and true sense of the feelings people were having during the portrait session. Adam's suit is by Bonobos.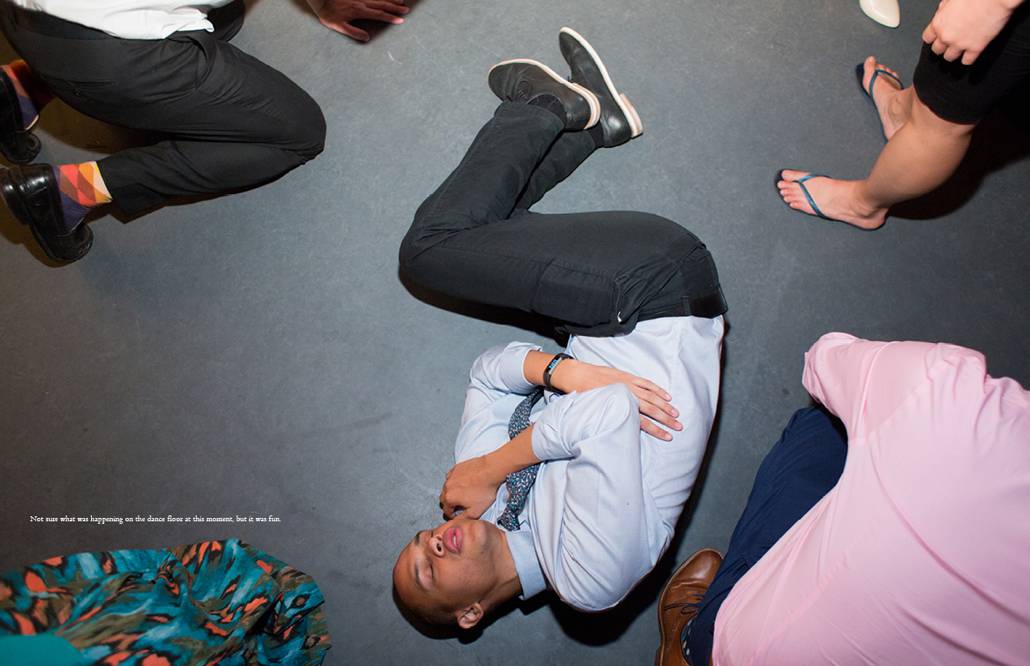 The DJ at Simone and Adam's celebration was DJ OP! Kyo said he was one of the best DJs he ever heard. The crowd Never. Stopped. Dancing.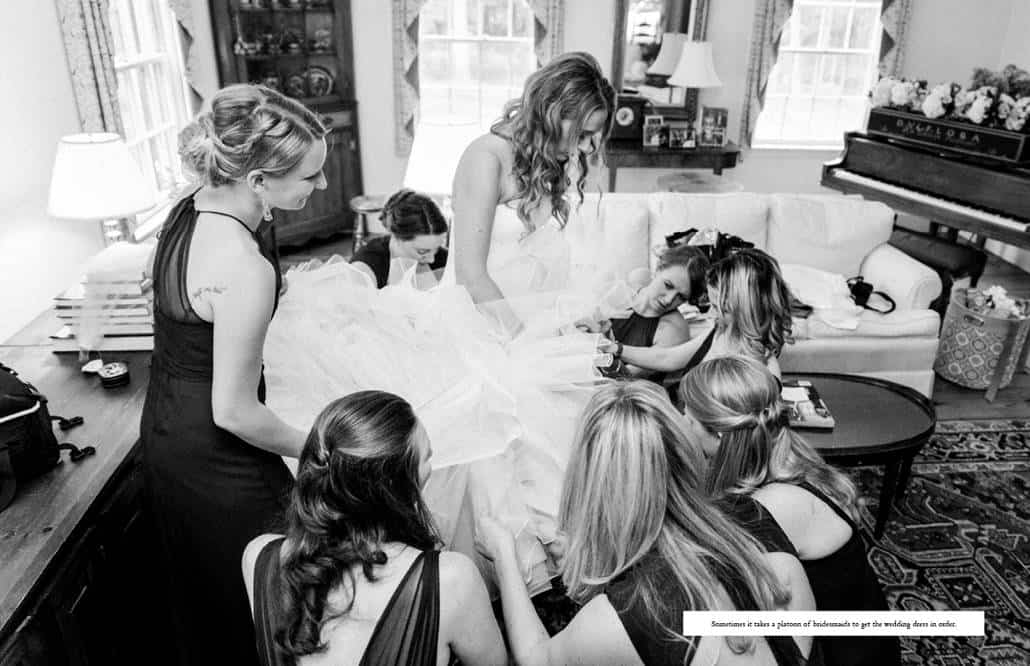 This is a classic shot: Lucy gets ready in the living room at her grandparents' house, and her whole posse of seven bridesmaids surround her. It takes an army to get her dress (a gown by Pronovias) arranged.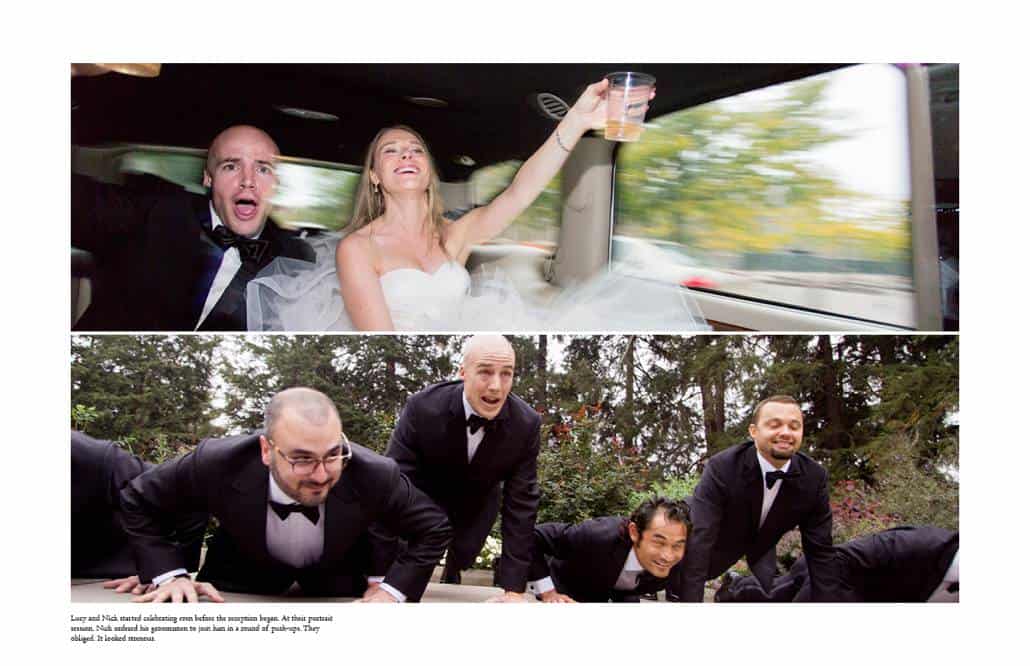 Lucy and Nick celebrate as they drive to their reception at Cherry Valley Country Club (the limo was from A-1 Limousine). Nick is a personal trainer, so Kyo captured him leading his groomsmen in a series of push-ups during the portrait session at Prospect Gardens in Princeton.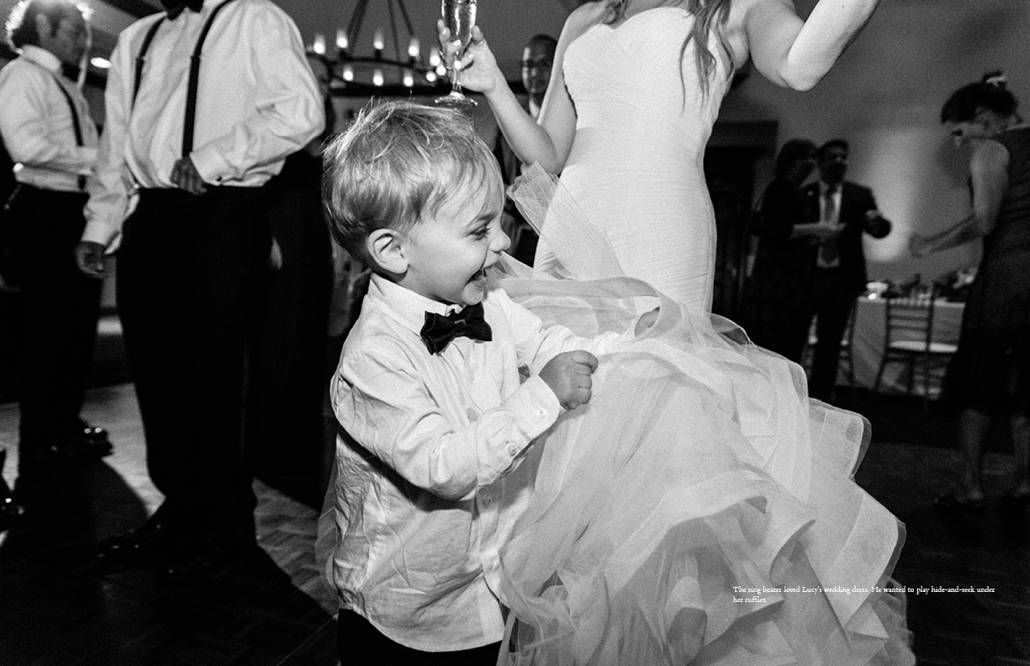 Even the ring bearer thought Lucy's wedding gown was fantastic. He wanted to play hide and seek under her ruffles. (The DJ at Lucy and Nick's wedding was another one of our favorites, 74 Events, based in Brooklyn.)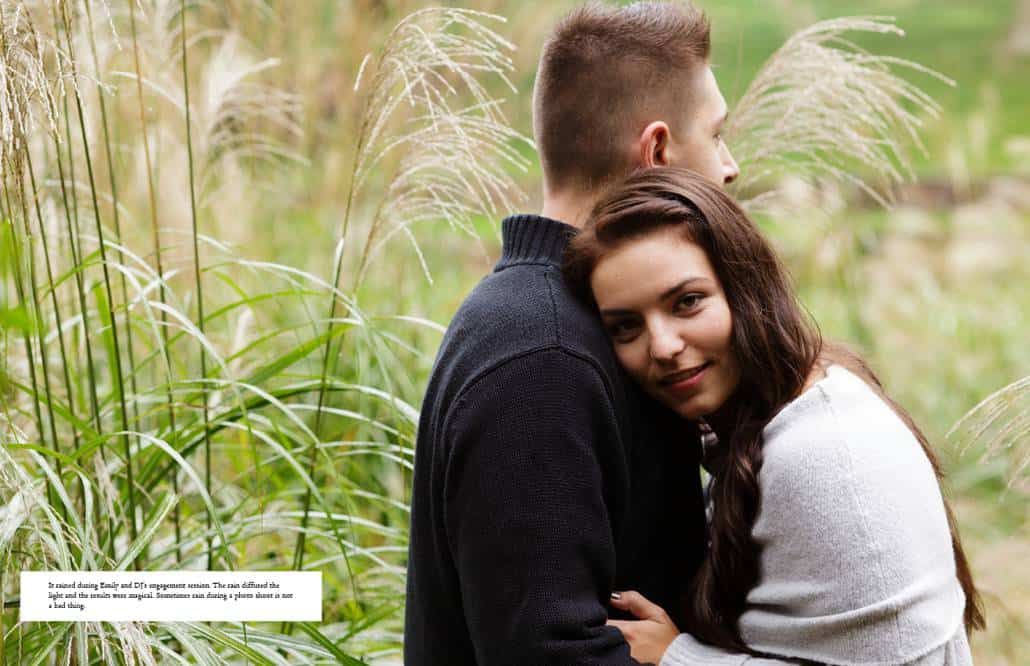 It was raining lightly throughout Emily and DJ's engagement session at Jasna Polana, but that didn't deter them from having a great time. The light was so soft and flattering.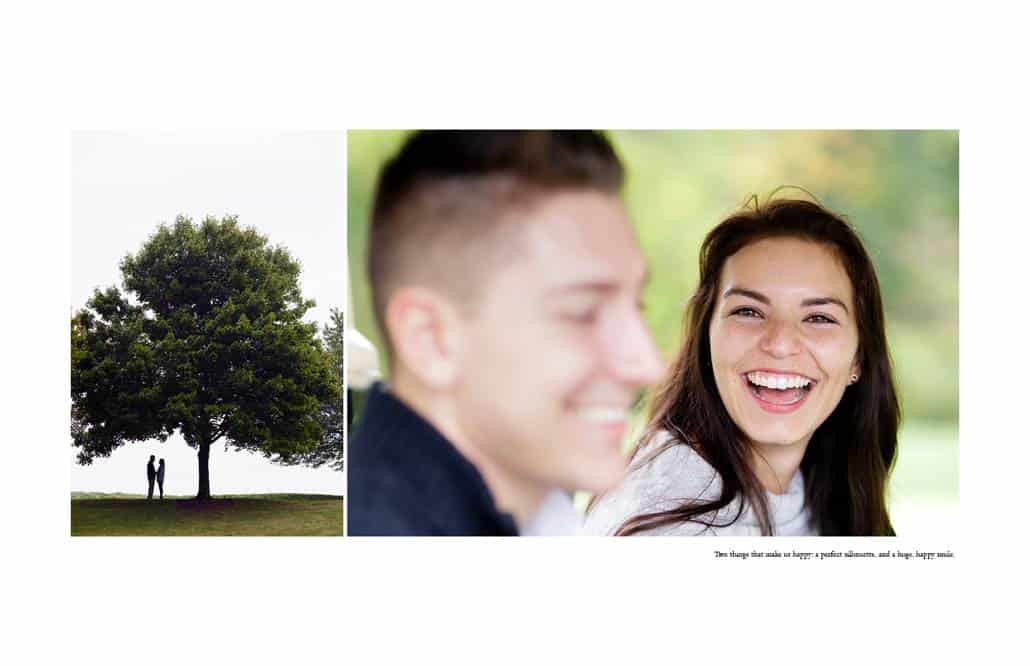 Originally Emily and DJ wanted to have their engagement session at a horse stable (Emily is an avid horseback rider), but it ended up being logistically easier to have their engagement pictures taken at Jasna Polana, the venue where they will be getting married. You can see that the pictures turned out beautifully, even without horses.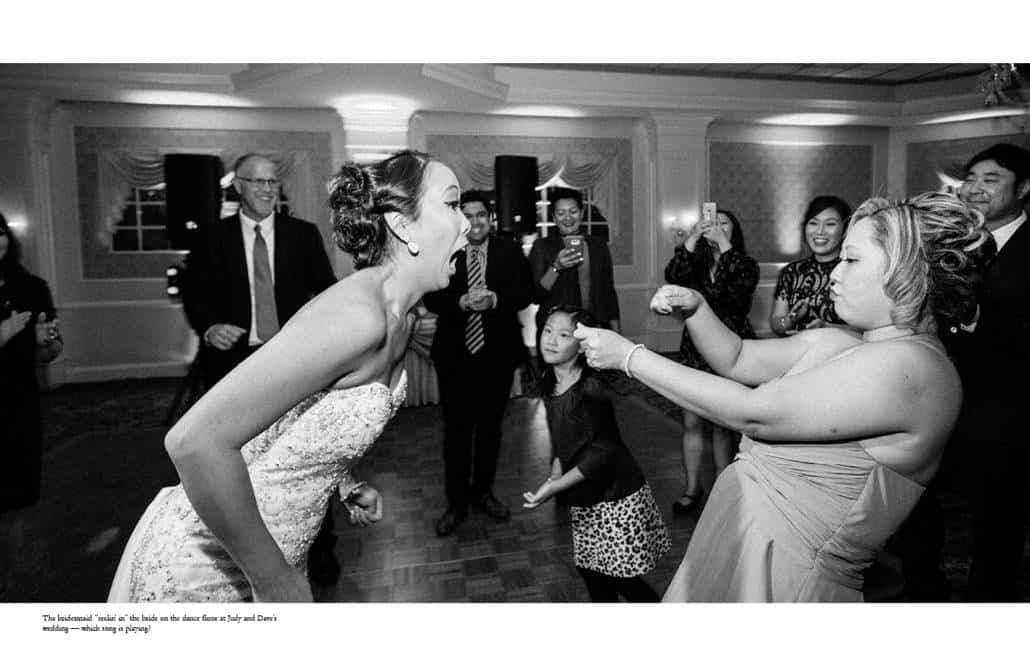 There were so many goofy moments at Judy and Dave's wedding — they both have a great sense of humor. We love this shot of Judy's bridesmaid "reelin'" her in on the dance floor.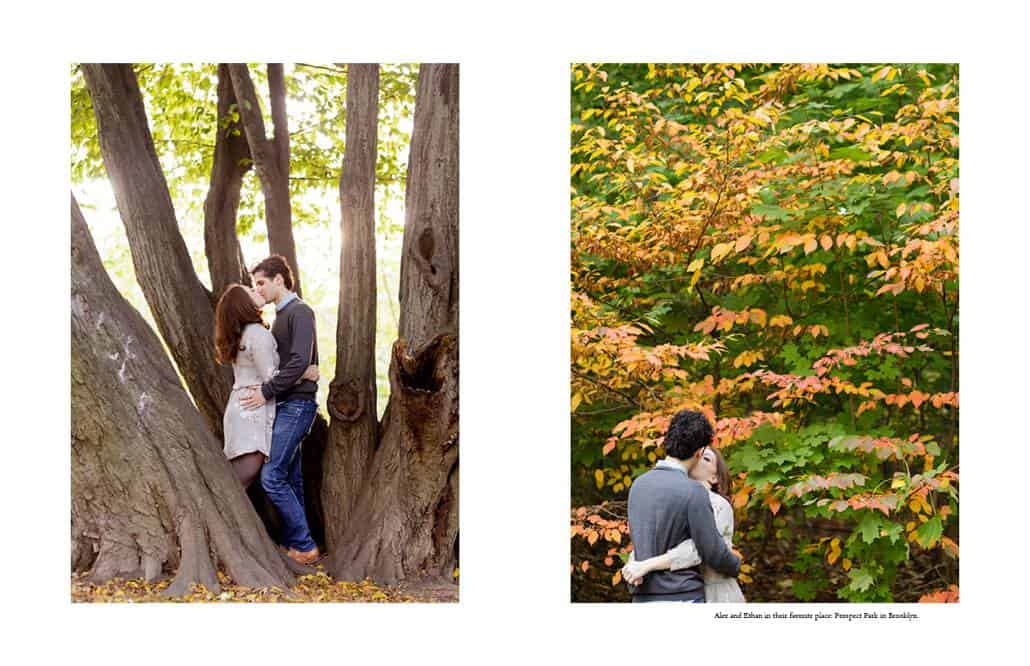 Alex and Ethan live in Brooklyn and one of their favorite places in the city is Prospect Park, so that was naturally their first choice location for engagement pictures. It was late afternoon in the fall, and they got so many beautiful photos with the red and gold foliage behind them.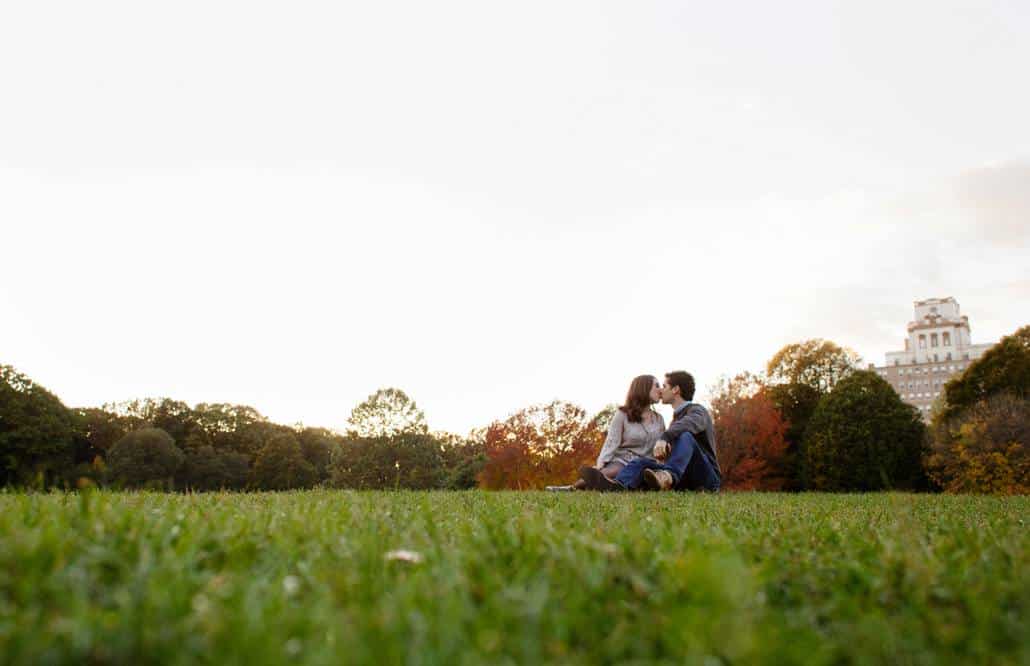 This is such a classic take on Prospect Park, with one of the stately apartment buildings on Eastern Parkway just visible on the lower right horizon.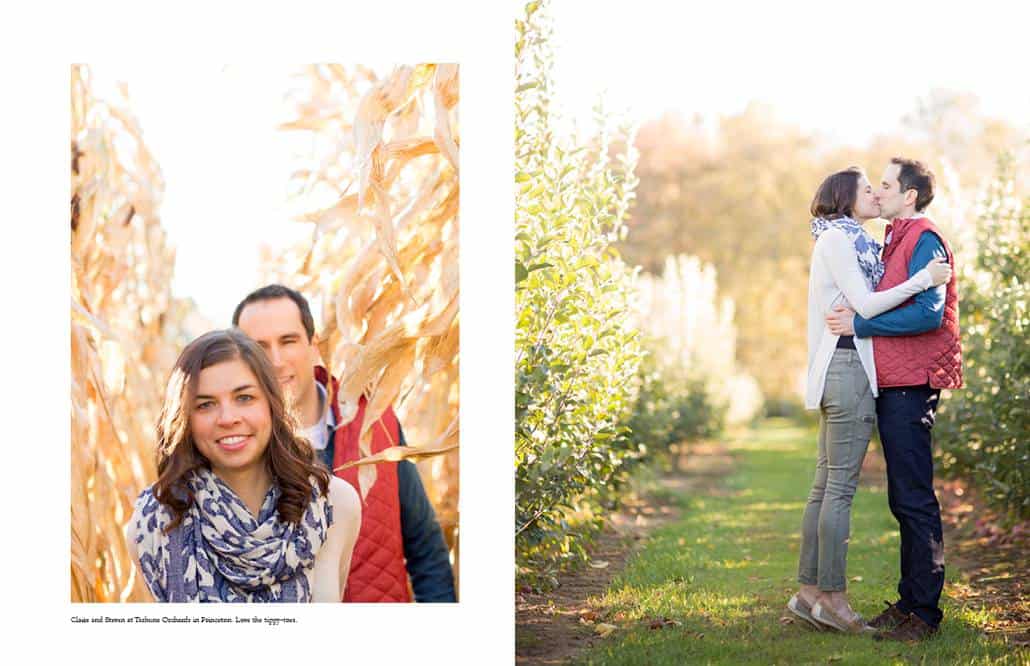 Claire and Steven decided to have their engagement session at Terhune Orchards in Princeton. Farms are great places for engagement pictures because there are so many different types of backgrounds in one place. At left, Claire and Steven make their way through the cornfield. At right, they stand between two rows of apple trees for a little kiss.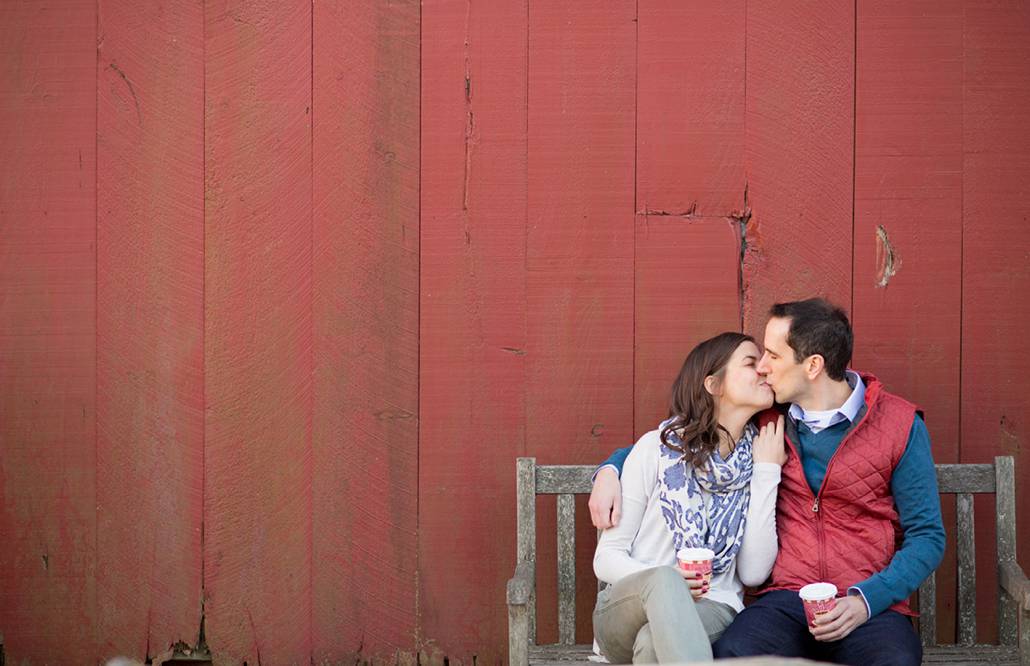 Simple compositions work really well for portraits. In this shot, Kyo photographed Claire and Steven sitting on an old bench in front of a red barn wall at Terhune Orchards. It's the smile on Claire's face that makes the photo so nice.
Greg and Jeremy had a fabulous wedding in Princeton. Kyo has photographed other same-sex weddings in the past, but Greg and Jeremy were the first gay couple who let us use their photos on Facebook or our blog. We were so excited to share their happiness with the world.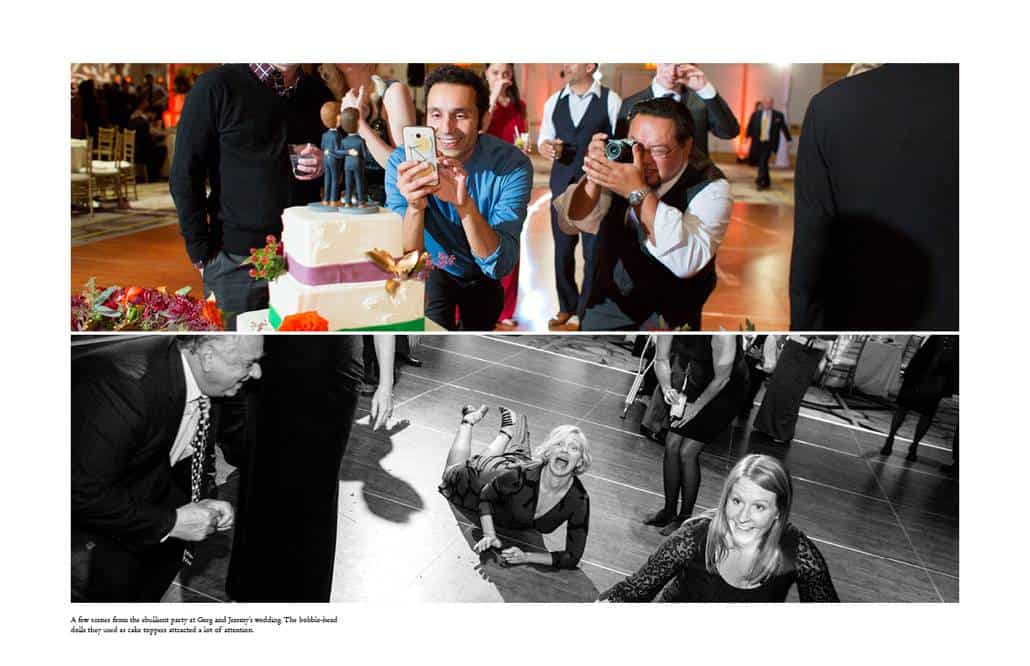 Their reception was at the Hyatt Regency Princeton. It was an ebullient party, and the bobble-head dolls that topped their wedding cake were a big hit.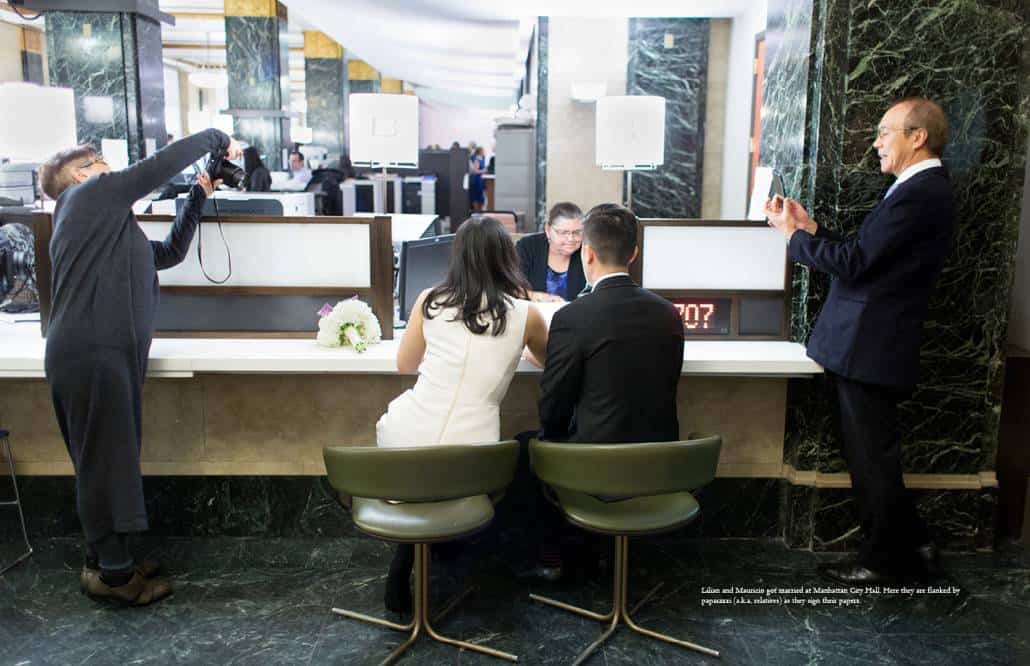 Lilian and Mauricio got married at Manhattan City Hall. It was amply documented by both Kyo and all of their relatives.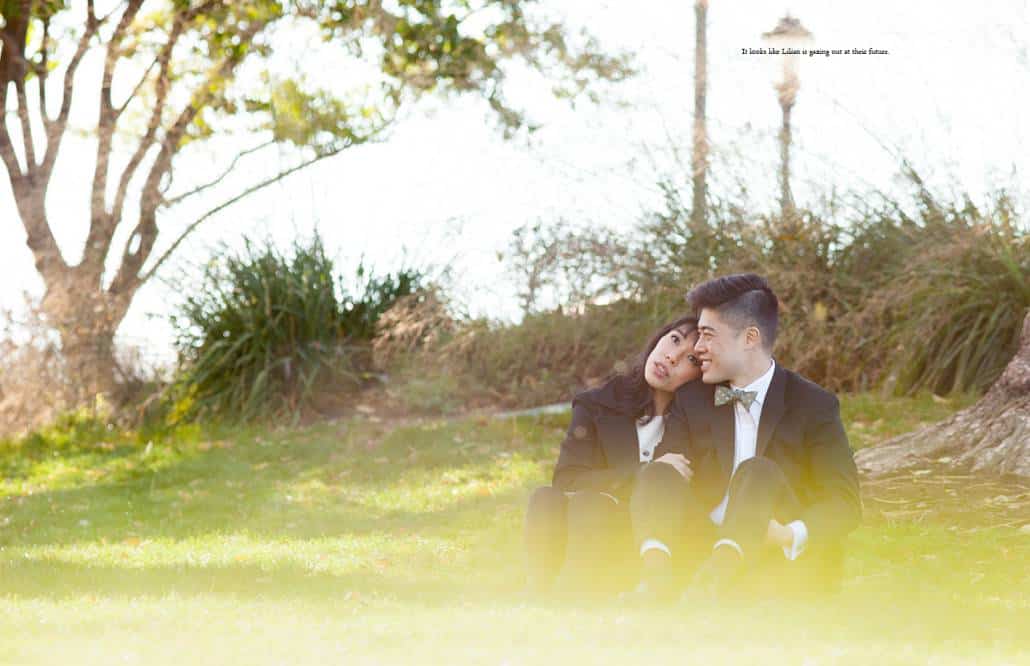 This photo has a somewhat mystical quality as Lilian gazes out into the distance, probably thinking about their future together. And the counter-balance to her dreamy expression is Mauricio's polka-dotted bow tie.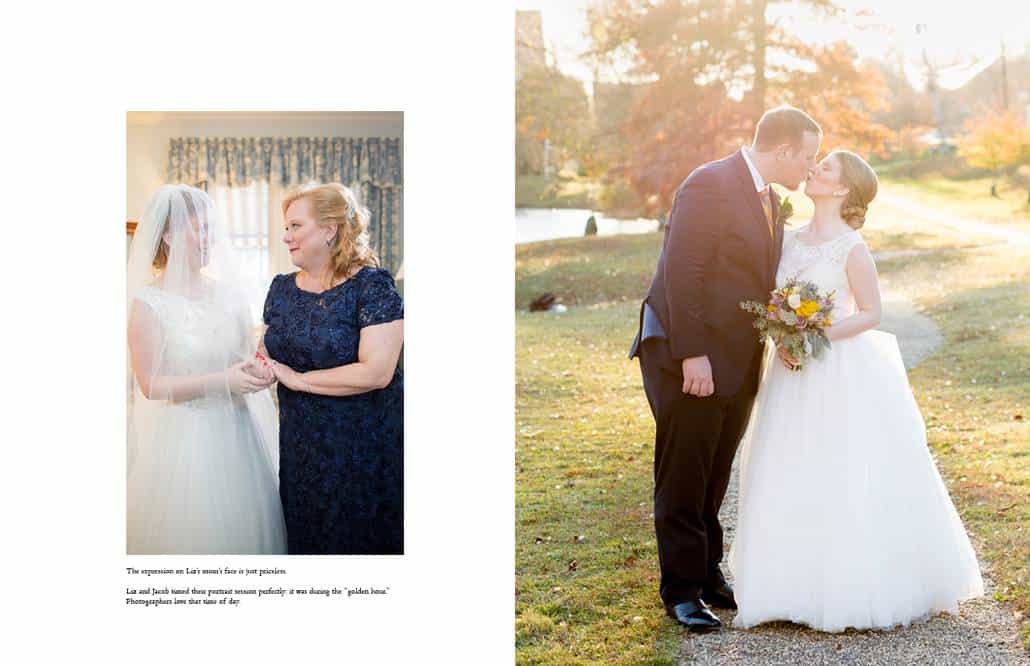 Liz and Jacob got married at the Bernards Inn in Bernardsville, NJ, and scheduled their portrait session for the perfect time, just as the sun was setting very low in the horizon. All their portraits seemed to be tinged with gold.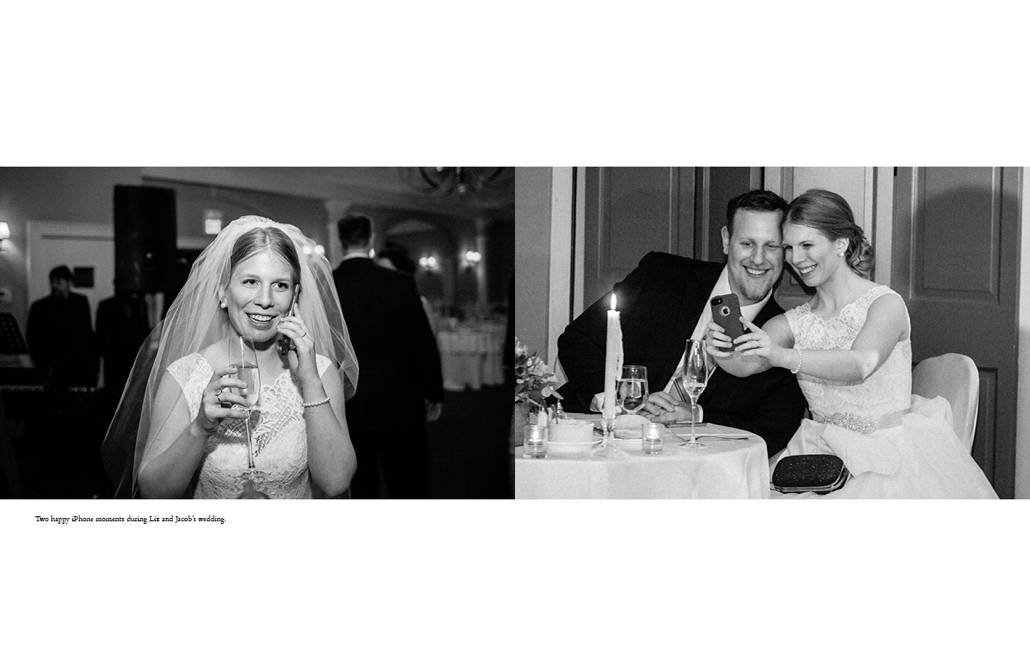 These two iPhone moments were so cute, Kyo was glad he caught them.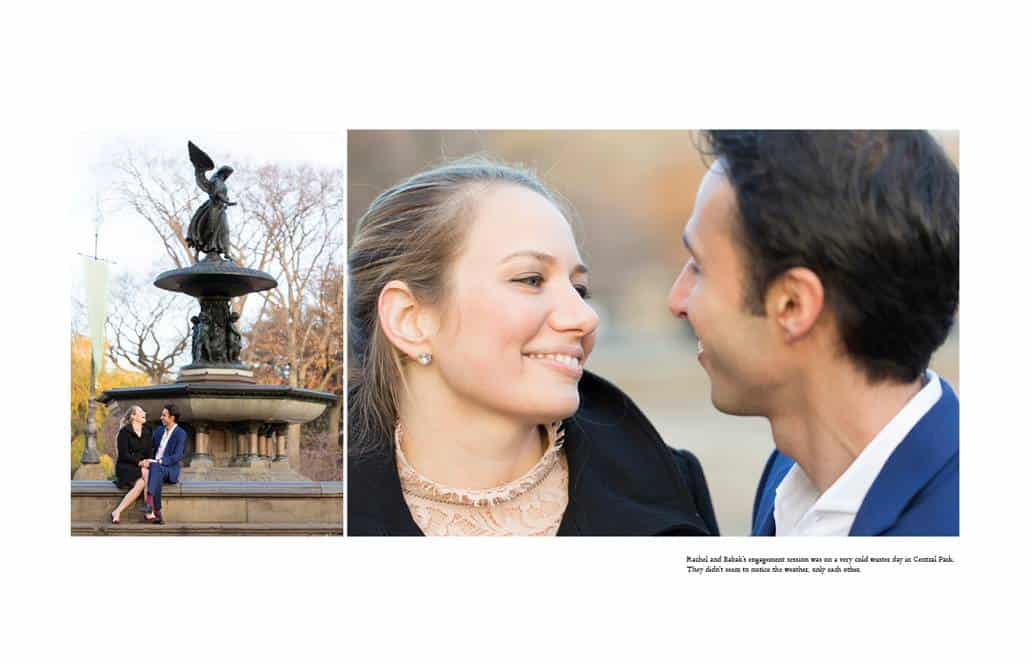 Rachel and Babak were beaming during their wintertime engagement pictures in Central Park. It was so cold outside, but they just talked and laughed and acted like it might have been a sunny spring day. Kyo loved their attitude.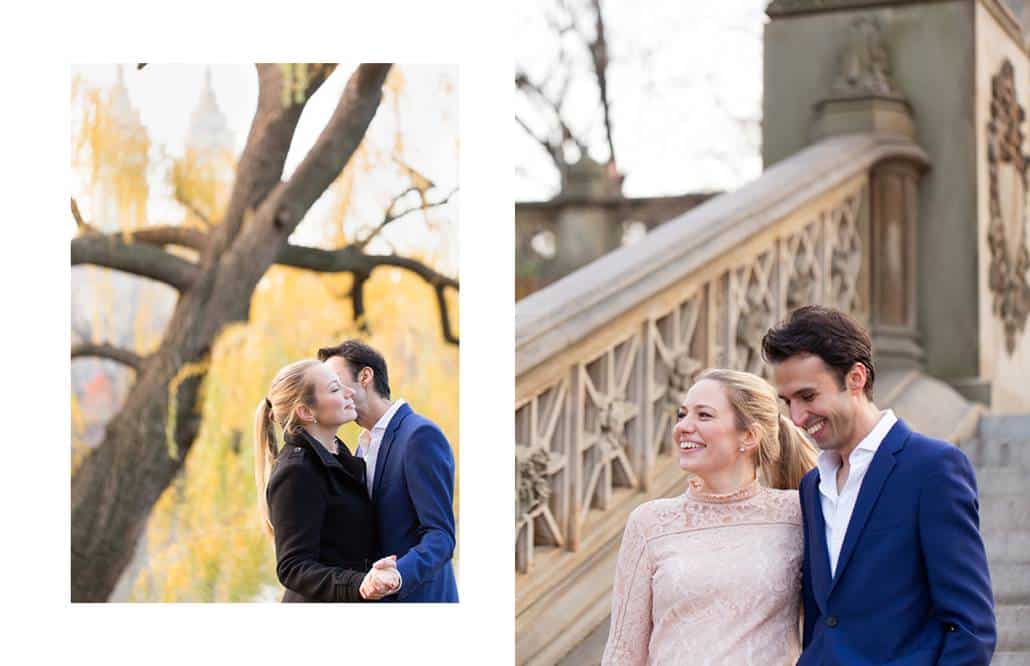 The straw gold of the out-of-focus weeping willow on the left makes the photo pop… and Rachel's smile makes the right-hand photo sing.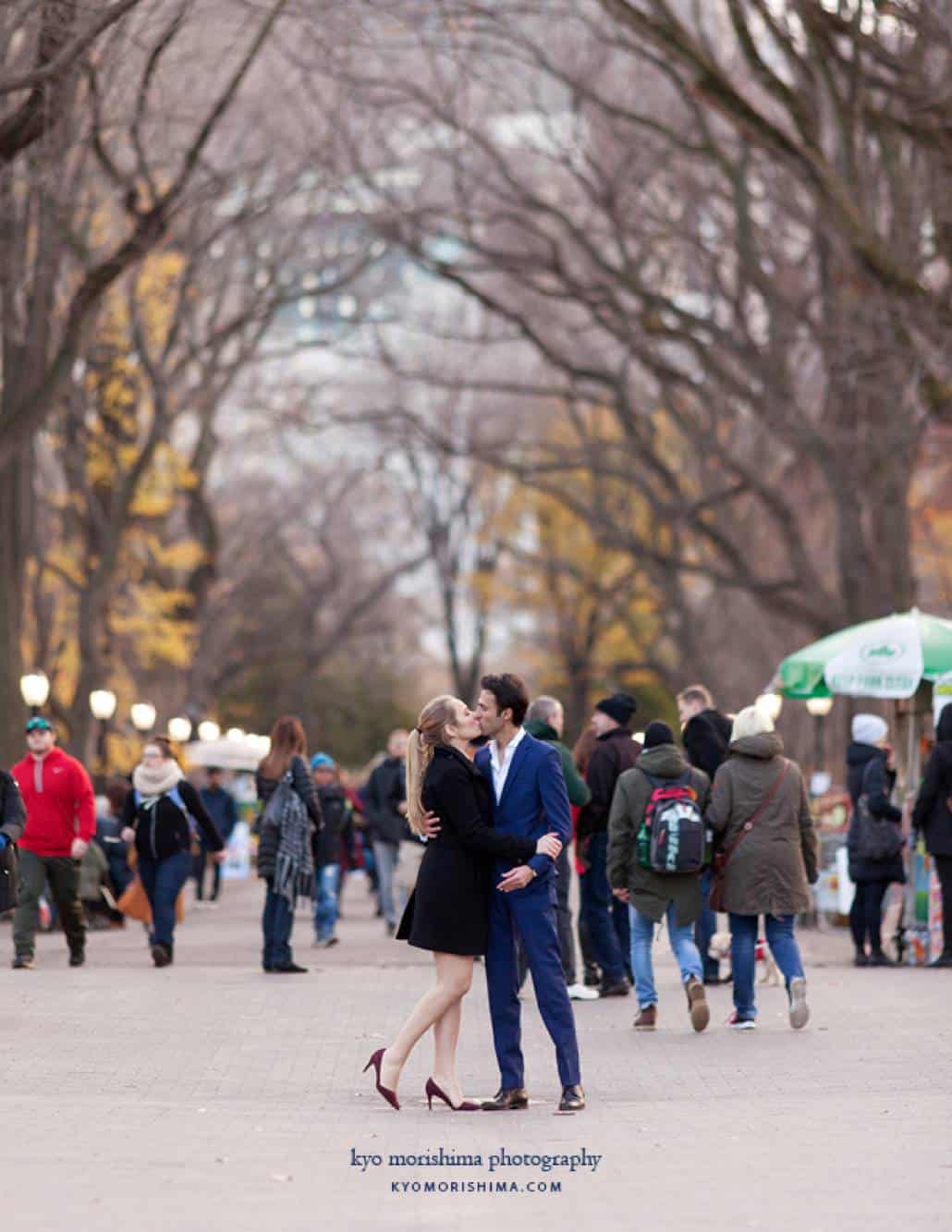 And here's the back of the photo essay: Rachel and Babak kissing on the Mall in Central Park, with throngs of passers-by in the background. But the two of them seem as if they are in their own world together.
awesome music
block party
wedding cake
https://kyomorishima.com/wp-content/uploads/2017/01/Best-of-2016-mag18_best-2016-wedding-photograph.jpg
666
1030
Kyo Morishima
https://kyomorishima.com/wp-content/uploads/2014/04/kyo-logo-website1.png
Kyo Morishima
2017-02-06 21:42:55
2017-02-06 21:42:55
Our Best Wedding Pictures of 2016